Motorola & RIM propose nano-SIM compromise with Apple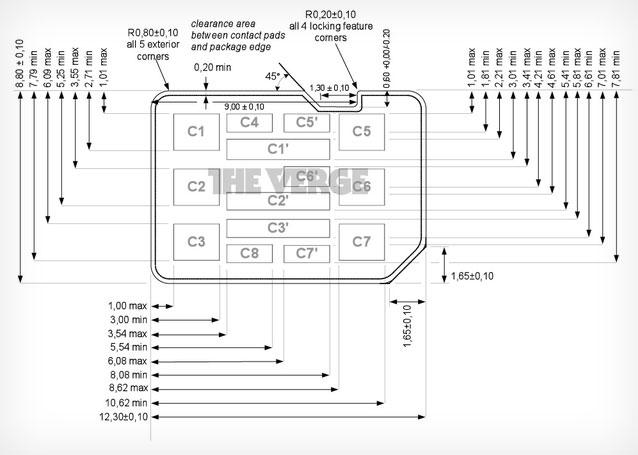 AppleInsider may earn an affiliate commission on purchases made through links on our site.
A new design concept for a next-generation, smaller "nano-SIM" card has been submitted by Motorola and RIM, which tweaks a design originally pushed by Apple.
The new nano-SIM design, according to The Verge, is "80 percent Apple and 20 percent RIM / Motorola." It features the same outline and contacts originally included in Apple's design, which means it will be backward compatible with larger SIM cards when used with an adapter, but it also includes a notch on one edge that would allow a mechanism that would secure the card once pushed in, and allow it to be pushed again to pop it out.
Apple's design, without the notch, would have required a tray to hold it in place. The new design proposed by RIM and Motorola negates the need for the tray with the use of what RIM calls the "push-push" mechanism.
The proposed nano-SIM design from Apple was first revealed in late March before the European Telecommunications Standards Institute was scheduled to make a decision. But that vote was postponed as two competing camps led by Apple and Nokia could not come to an agreement.
Nokia stood in opposition to Apple's design because the Finnish handset maker believed the design would violate a "no jamming" rule. Their issue was based on the fact that the length of Apple's proposed nano-SIM is too similar to the width of current-generation micro-SIMs, which could lead consumers to accidentally jam it into a smartphone and have it get stuck.
Apple made slight tweaks to its nano-SIM design which were revealed earlier this month. SIM card maker Giesecke & Devrient showed off Apple's new nano-SIM design with slightly adjusted dimensions at the CTIA trade show in New Orleans, La.
Apple's tweaked design added a small amount of plastic to the edges of the electrical contacts. That made the revised nano-SIM card too long to be forced lengthwise into an existing micro-SIM slot.
But Apple's tweaked design would have apparently still required a tray for holding the nano-SIM card inside a smartphone. RIM and Motorola's revised proposal relies instead on the "push-push" mechanism to negate the need for a tray.
Apple previously objected to the inclusion of a notch on the nano-SIM card, claiming that the addition of one would extend time to market of the new design because it would reduce the space for silicon inside the smaller SIM card.
The next ETSI meeting is scheduled to take place starting May 31, at which a decision should be made on the proposed nano-SIM redesigns from both Apple as well as Motorola and RIM.