America's first prepaid iPhone arrives on Cricket Wireless June 22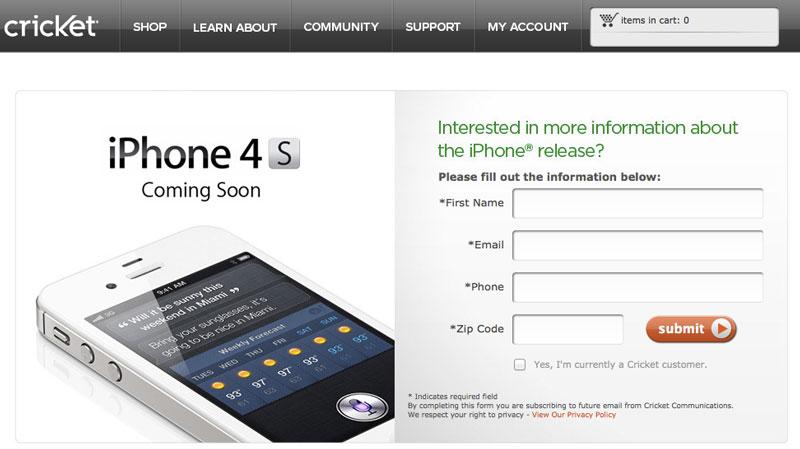 On June 22, Cricket Wireless will become America's first fully prepaid wireless carrier to offer Apple's iPhone, with an "unlimited" $55-per-month plan.
Cricket Wireless is a prepaid subsidiary of Leap Wireless, which offers "unlimited" data plans under a "fair usage policy" of 2.3 gigabytes per month. The small carrier with 6.2 million customers announced on Thursday that it will become the first prepaid carrier in the U.S. to offer the iPhone to its customers.
On June 22, Cricket will sell the 16-gigabyte iPhone 4S contract-free for $500, in addition to the 8-gigabyte iPhone 4 for $400. Both will be compatible with the carrier's "unlimited" $55-per-month talk, text and data plan.
Customers will be able to buy both the iPhone 4S and iPhone 4 in Cricket company-owned stores and select dealers in nearly 60 markets. The iPhone will also be available for sale on the company's official website, and over the phone at 800-853-7682.
"Our customers want the best products available and we are excited to bring iPhone to our pre-paid consumers with an industry leading $55 per-month service plan," said Doug Hutcheson, president and chief executive officer with Leap Wireless International, Inc. "Launching iPhone is a major milestone for us and we are proud to offer iPhone customers attractive nationwide coverage, a robust 3G data network and a value-packed, no-contract plan."
Cricket offers wireless voice and mobile data services over 4G LTE and 3G CDMA wireless networks. Its parent company, Leap, is the owner of the seventh largest wireless telecommunications network in the U.S. with coverage in all 50 states.
Cricket is the latest regional wireless carrier to receive the iPhone, as Apple has been aggressively expanding the presence of its smartphone to smaller carriers in the U.S. Earlier this month, Apple added Kentucky's Bluegrass Cellular, California's Golden State Cellular, and Kansas' Nex-Tech Wireless to its list of official carrier partners.
In April a total of five carriers began selling the iPhone 4S and iPhone 4: Alaska Communications, Appalachian Wireless, Cellcom, GCI and nTelos. And last October, the iPhone also launched on C Spire Wireless, a regional U.S. carrier with about 900,000 customers.