Purported 13" MacBook Pro specs show USB 3.0, Ivy Bridge, no Retina display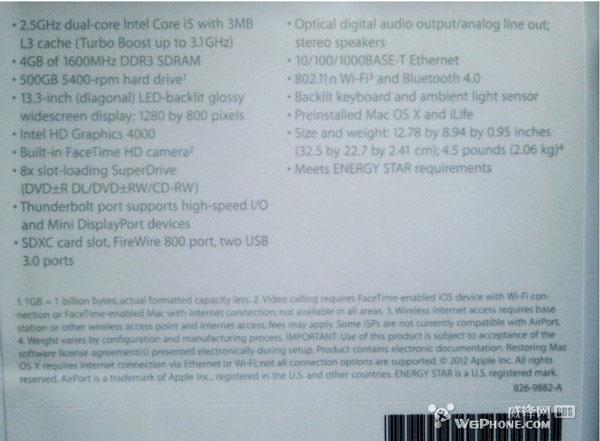 AppleInsider may earn an affiliate commission on purchases made through links on our site.
An image claiming to show specifications for an unreleased 13-inch MacBook Pro shows it equipped with an Ivy Bridge processor and USB 3.0 ports, but without a high-resolution Retina display.
The image, published on Tuesday by Macotakara, could easily have been faked. But the questionable image shows hardware specifications as they would usually appear on the box of an Apple notebook.
The image claims the computer will feature a 2.5 gigahertz dual-core Intel Core i5 processor with 3 megabytes of L3 cache and Turbo Boost up to 3.1 gigahertz. It also features 4 gigabytes of 1600 megahertz DDR3 SDRAM, a 500 gigabyte 5400-rpm hard drive, and the new Intel HD Graphics 4000 found in the latest Ivy Bridge processors.
The purported specifications also show the MacBook Pro with a 13.3-inch LED backlit glossy widescreen display with a resolution of just 1,280 by 800 pixels. That resolution would not qualify as an Apple-branded Retina display, as the company is expected to debut new MacBook Pros with higher resolution screens at next week's Worldwide Developers Conference.
In addition to having a traditional spinning hard drive, the list of features also suggests the 13-inch MacBook Pro will have an 8x slot-loading SuperDrive for CDs and DVDs. Apple's next MacBook Pros are instead expected to be a significant redesign that will ditch the optical drive for a thinner design like the MacBook Air.
However, the alleged MacBook Pro update does feature two high-speed USB 3.0 ports, in addition to a Thunderbolt port, SDXC card slot, and FireWire 800 port.
The size and weight shown on the spec sheet has the MacBook Pro sized at 12.78 by 8.94 by 0.95 inches and 4.5 pounds. Those are identical to the current 13-inch MacBook Pro sold by Apple.
If legitimate, it's possible the specifications could show a low-end 13-inch MacBook Pro that Apple intends to release. That model could lack some of the features of the higher end models, like a thinner design and Retina display.