New Apple AirPort Express features dual-band Wi-Fi
By AppleInsider Staff
Monday, June 11, 2012, 11:05 am PT (02:05 pm ET)
The AirPort Express received a redesign on Monday, adding features previously only available in the AirPort Extreme, such as dual-band Wi-Fi.

Priced at $99, the new AirPort Express features a completely redesigned compact enclosure and new wireless and connectivity capabilities. Simultaneous dual-band 802.11n Wi-Fi allows users to create a network that delivers optimal performance and range.

The AirPort Express also features an audio-out port to connect external powered speakers or an A/V receiver and use AirPlay to wirelessly stream from iTunes on a Mac or iOS device.

A USB 2.0 port also allows users to share a printer wirelessly over your network, and an additional ethernet port lets users connect to other computers and network devices.

Setup for the AirPort Express is built into OS X and iOS, and with AirPort Utility 6.0 for OS X Lion and iOS, users can access a visual map of their network for viewing and reconfiguring devices.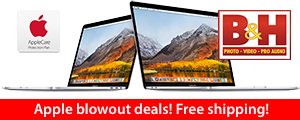 2017 12" MacBooks
Price
Save
1.2GHz/8GB/256GB (Gold)
$799.00+
$500
1.2GHz/8GB/256GB (Rose Gold)
$799.00+
$500
2018 13" Touch Bars
Price
Save
2.3GHz/8GB/256GB (Gray)
$1,649.99+
$150
2.3GHz/8GB/512GB (Silver)
$1,879.00+
$120
2.3GHz/16GB/256GB (Gray)
$1,949.00+
$50
2.7GHz/16GB/512GB
$2,449.00+
$50
2.7GHz/16GB/1TB
$2,849.00+
$50
2018 15" MacBook Pros
Price
Save
2.2GHz/16/256GB/555X
$2,549.00+
$50
2.2GHz/16/512GB/555X
$2,575.00+
$225
2.9GHz/16/1TB/560X
$3,199.00+
$300
2.9GHz/32/2TB/560X (Gray)
$3,999.00+
$700
2.9GHz/32/4TB/560X (Gray)
$5,999.00+
$700
Click here for dozens more configurations
+ Free shipping within the contiguous U.S.
Lowest Prices Anywhere!

13" MacBook Pros
Price
You Save
3.1GHz/8GB/256GB Gray
$1,679.00
$120.00
3.1GHz/8GB/256GB Silver
$1,704.00*
$95.00
3.1GHz/8GB/512GB Gray
$1,849.00*
$150.00
3.1GHz/16/512GB Gray
$2,099.00
$100.00
15" MacBook Pro
Price
You Save
2.8GHz/16/256/555 Silver
$2,199.00*
$200.00
2.8GHz/16/256/560 Gray
$2,299.00
$200.00
2.9GHz/16/512/560 Gray
$2,599.00
$200.00
2.9GHz/16/1TB/560 Gray
$2,999.00
$200.00
3.1GHz/16/512/560 Gray
$2,799.00
$200.00
3.1GHz/16/2TB/560 Gray
$3,899.00
$300.00

*

price with Promo Code:

APINSIDER

prices.appleinsider.com for more configurations