Apple planning to launch standalone podcast app in iOS 6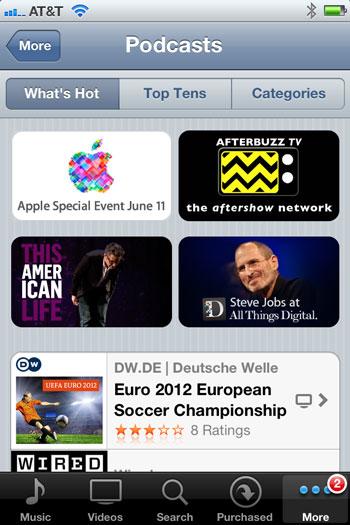 Podcast will reportedly be broken out of the iTunes application for iOS and given their own standalone software, with the release of iOS 6 this fall.
Citing people familiar with Apple's plans, Peter Kafka of All Things D reported on Friday that the new podcast application in iOS 6 will allow users "to discover, download and play" Internet programs on their mobile devices. The move would mirror a change instituted in iOS 5, when Apple separated its iPod application into separate options for Music and Videos.
Currently, podcasts can be viewed and downloaded through the iTunes application in iOS. But unlike with the desktop version of iTunes, users cannot subscribe to podcasts and have new episodes of programs automatically downloaded.
In addition to discovering and downloading podcasts, the new application will also be used to play back Internet-based programs. Users currently listen to podcasts downloaded from iTunes through the Music application in iOS.
In iOS 5 and prior, users must launch the iTunes application and search for their favorite shows to download them. Or, when listening to an episode in the Music application, a link to the iTunes app offers users the ability to download more episodes.
While podcasts will apparently be found in a separate application in iOS 6, Apple reportedly has no plans to make such a change in the desktop version of iTunes, found on both Mac and PC.
While Apple offers podcasts for download through iTunes, some of the more popular shows on the Internet have begun offering their own standalone iOS applications that allow users to stream programs, like comedian Adam Carolla's ACE Broadcasting, and Leo Laporte's TWiT. In addition, applications like iCatcher also offer dedicated podcast downloading, playback and subscription functionality.