Apple initiates employee hardware discount program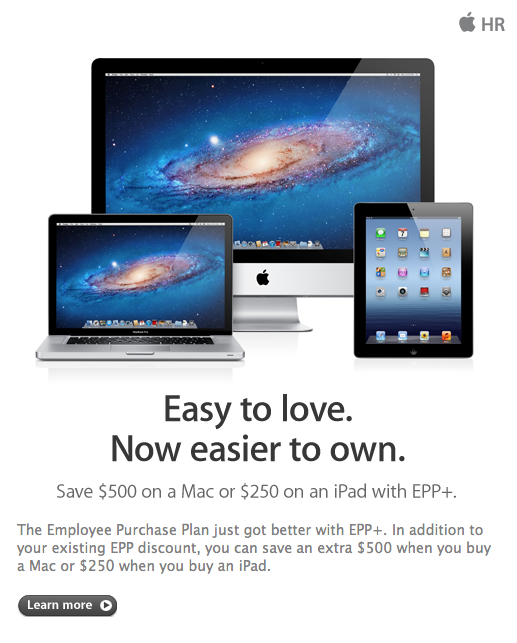 As promised early this year, Apple on Wednesday began its new Employee Purchase Plan+, offering an extra $500 discount on eligible Macs and $250 off the iPad to its employees.
Apple CEO Tim Cook first revealed the discount plan at a town hall meeting in January. The program offers employees who have passed their probationary period an extra discount on a Mac and an iPad on top of their usual 25 percent discount once every three years.
MacNN reports that the discounts went into effect on Wednesday. However, the Mac deal does not apply to either the Mac mini or the new MacBook Pro with Retina Display. The Mac mini exclusion makes sense because of the diminutive machine's low price, but Apple's reasons for excluding its top-of-the-line MacBook Pro are not clear, though current constrained supply may be a factor.
The employee benefit program begins on the same day that reports emerged of Apple offering retail workers larger-than-usual raises. Employees reportedly felt the wage increase was long overdue, especially given the record profits that Apple has been enjoying in recent quarters.
The pay hike is expected to help Apple improve employee retention. Microsoft is believed to have poached some Apple retail store workers with promises of "perks, signing bonuses and promotion opportunities," according to the report.
Cook has taken interest in creating programs for employees of the company. He initiated a charitable matching program last year where Apple will annually match up to $10,000 worth of contributions from full-time employees. During an onstage interview late last month, Cook pointed to the matching gift program as an example of changes that he is making at Apple while still preserving the company's unique culture.