Court filing reveals Apple's iPad prototype from early 2000s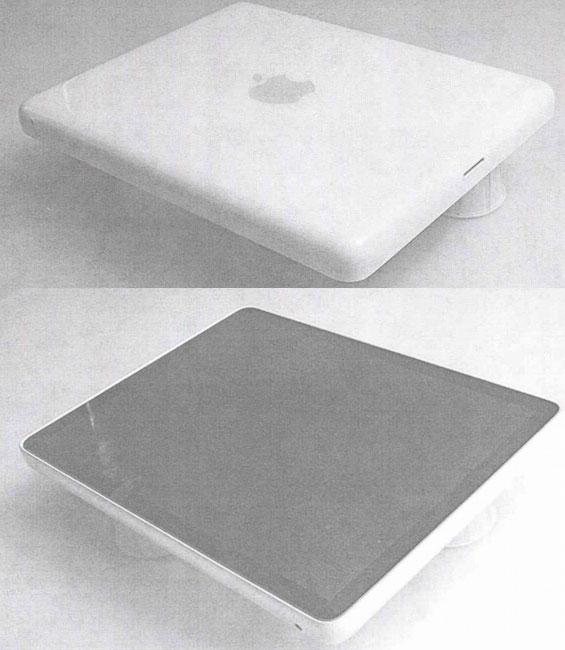 Pictures of early design concepts for the iPad made between 2002 and 2004 have been revealed through an Apple court filing.
The pictures, published on Wednesday by Network World, show an early prototype design very similar to the final product Apple would eventually release in 2010. It features many of the signature elements of the iPad, including rounded corners, a dock connector port at the bottom, a front panel dominated by a glass touchscreen, and a plain back with just the Apple logo.
However, the early concept lacks the home button that is found on all iOS devices, and it also features a smaller black border on the outside of the screen. The concept device is also noticeably thicker than the first-generation iPad ended up being in 2010.
Apple's lead designer, Jonathan Ive, was asked about images of the prototype in a deposition conducted in December of 2011.
Ive said he couldn't precisely remember the first time he had seen the prototype, but guessed that it was at some point between 2002 and 2004. He revealed that was when Apple was first exploring tablet designs that would eventually become the iPad.
Apple's design chief revealed that the mockup tablet design, referred to as "035," was created as a result of collaboration between himself and other members of the company.
"I recognize this as one of... the models that we made as part of the design process, as part of the exploration," Ive said in the deposition.
The images confirm a story told by Steve Jobs at the 2010 All Things D conference, when he revealed that Apple had internally developed a touchscreen tablet long before the iPhone became a reality.
It was at the D8 conference in 2010 that Jobs first revealed that the development of the iPhone actually began as Apple was looking into building a touchscreen tablet. The original vision of Jobs was a glass multi-touch display that users could type on with their fingers.
"I asked our people about it, and six months later they came back with this amazing display," Jobs said. "And I have it to one of our really brilliant UI guys. He got scrolling working and some other things, and I thought, 'My God, we can build a phone with this.' So we put the tablet aside, and we went to work on the iPhone."