Filings detail Apple's plans to improve support for hearing impaired users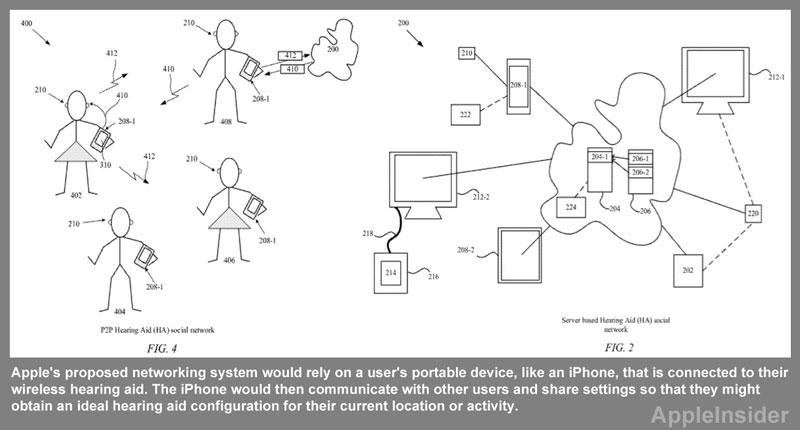 AppleInsider may earn an affiliate commission on purchases made through links on our site.
With this fall's launch of iOS 6 set to add support for new "Made for iPhone" hearing aids, a pair of new patent applications offer a glimpse of how Apple could even further benefit users who are hearing impaired.
The applications come as Apple is set to offer built-in support for new "Made for iPhone" hearing aids later this year with the launch of iOS 6. The new hardware accessories will offer compatibility with Apple's latest-generation model, the iPhone 4S.
But Apple's newly published patent applications go much farther than just a certified iPhone accessory. Specifically, the social network patent describes a system through which users who rely on hearing aids could communicate with one another and share information in the interest of improving the overall quality of life of the members.
"With the advent of programmable hearing aids whose signal processing can be at least partially modified, what is desired is providing a hearing aid user the ability to modify the audio processing of the programmable hearing aid in the context for which the hearing aid will be used," the filing reads.
Apple's proposed networking system would rely on a user's portable device, like an iPhone, that is connected to their wireless hearing aid. The iPhone would then communicate with other users and share settings so that they might obtain an ideal hearing aid configuration for their current location or activity.
Ideal hearing aid settings could also be stored and shared through other devices, like a computer or television set.
The second patent, related to remotely updating the settings on a hearing aid, describes how a system could save different configured profiles for specific circumstances. This would allow the user of a hearing aid "to modify the audio processing of the programmable hearing aid in real time in accordance with the context for which the hearing aid is or will be used."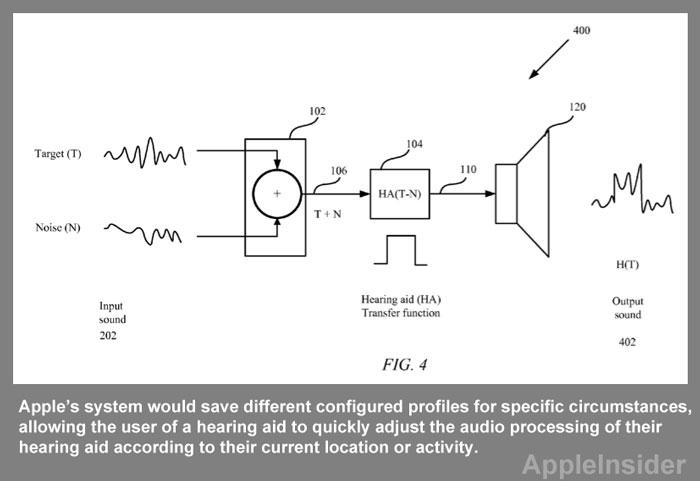 These stored, quickly selectable profiles could be shared between iPhones in Apple's social networking concept, which could make life easier for users with hearing issues.
Both the social networking application and the concept for remotely updating a hearing aid profile were were first filed with the USPTO in January of 2011. Both proposed inventions are credited to Edwin W. Foo and Gregory F. Hughes.