Apple investigating iPad Smart Cover with secondary display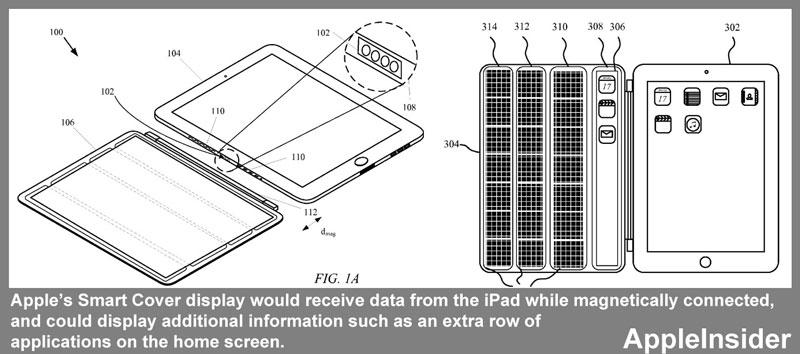 Apple has shown interest in creating an iPad Smart Cover that would act as a secondary touchscreen display for the device, showing simple status messages or even acting as a full-fledged touch keyboard.
The details were unveiled in a new patent application published on Thursday by the U.S. Patent and Trademark Office, and discovered by AppleInsider. The filing, entitled "Cover Attachment with Flexible Display," shows an iPad Smart Cover that would feature a MagSafe-like magnetic connection to the iPad, sharing data that would be shown on the external display.
Apple's filing presents a number of unique ideas how a touch-capable Smart Cover display could add new functionality to the iPad. In the most basic example, the cover shows an additional row of icons on the home screen, while a more complex concept shows movie playback controls at a user's fingertips on the rear of the device while in use.
Another example shows the Smart Cover acting as a touch keyboard for the iPad, a feature that would be very similar to Microsoft's "Touch Cover" keyboard for its forthcoming Windows 8 Surface tablets.
But Apple's Smart Cover display would go many steps further, and could allow even more versatile functionality. One example in the application shows a user wielding a stylus to draw an Apple on the secondary display.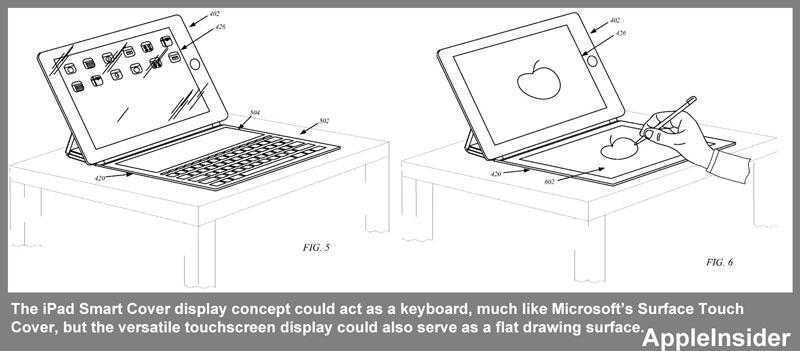 In another example, the secondary display is on the outside of the iPad when the Smart Cover is closed. There, the user is presented with system-saved reminders such as daily appointments, but the touchscreen functionality would also allow users to write in new reminders without the need to open the Smart Cover.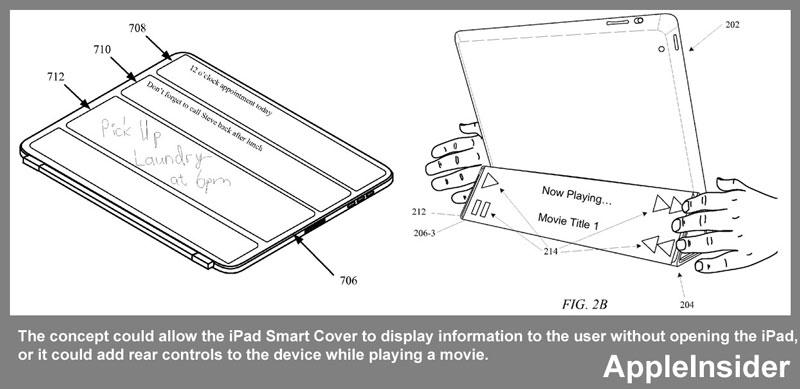 The concept, made public this week by the USPTO, was first filed by Apple in August of 2011. It is credited to Fletcher R. Rothkopf.