Apple invites developers to begin testing OS X 10.8.2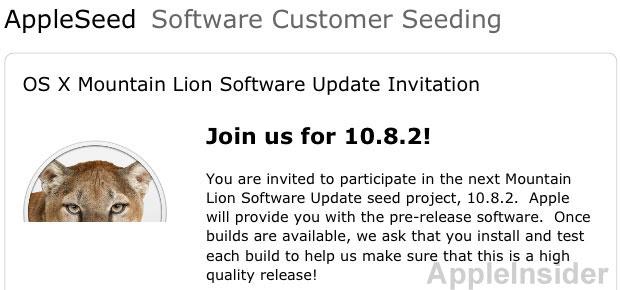 Even before OS X 10.8.1 is publicly released, Apple has begun inviting developers to test the following version of OS X Mountain Lion, identified as 10.8.2.
Select developers were notified via e-mail on Wednesday that they were invited to participate in the "next Mountain Lion Software Update seed project, 10.8.2," according to people familiar with the note. Developers who accept the invitation from AppleSeed will be among the first to test the update to Mountain Lion.
The first pre-release beta of OS X 10.8.1 was supplied to Apple's developer community earlier this month. This week, one developer claimed that the beta software appears to address issues with battery life on some MacBooks that were introduced with the launch of Mountain Lion.
However, thus far there have only been two pre-release beta of OS X 10.8.1 issued to developers, suggesting the software is not quite ready for public release. However, since 10.8.1 will be the first update to the newly released Mountain Lion operating system, it's likely that Apple is working quickly to provide bug fixes to the general public.
Mac OS X 10.8 Mountain Lion made its debut on the Mac App Store on July 25th. It saw a record 3 million downloads in just 4 days, immediately making it Apple's most successful release for the Mac ever.