First Look: Facebook integration in OS X Mountain Lion 10.8.2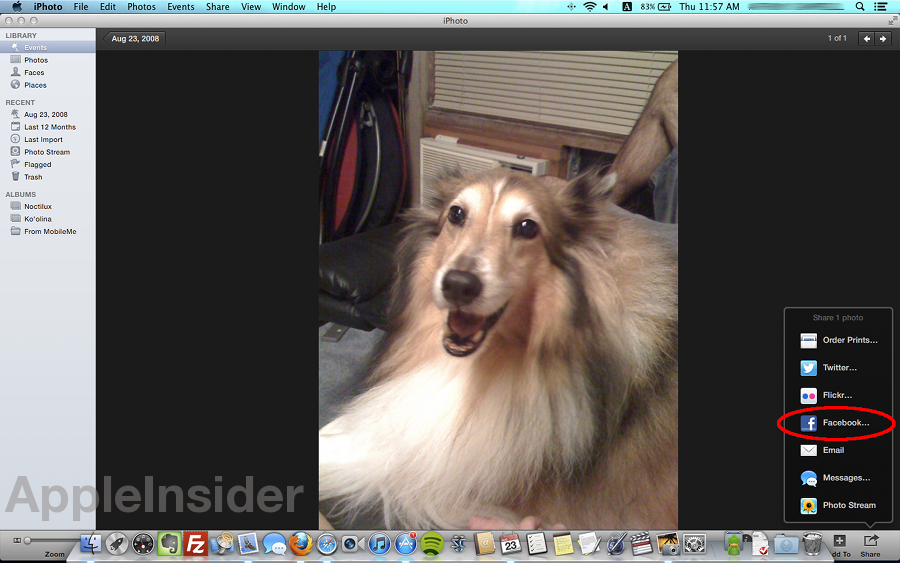 Apple on Thursday provided developers with a beta release of OS X 10.8.2, offering a sneak peek into how one of the most talked-about inclusions, system-wide Facebook integration, will work when it launches in a software update later this year..
While Apple has traditionally limited system-wide content sharing to microblogging service Twitter, the company announced it would be adding options for Facebook in both iOS and OS X in the near future.
Currently, supported applications in OS X 10.8 Mountain Lion have a "Share Sheet" button which allows users to distribute content via iMessage, Twitter and email. With OS X 10.8.2, Facebook has been added to the list of services available, making it easier to share web pages, photos and other digital media to the ubiquitous social network.
Facebook integration can be setup from any compatible app, as is the case with first-party Apple software like iPhoto as seen below. The quick and easy setup process should be available in participating third-party apps when the public version of 10.8.2 goes live as Share Sheets are a system-wide utility.
Facebook joins sharing options for Flickr, Twitter and iCloud's Photo Stream in iPhoto.
Users can also share images directly from the desktop by right-clicking an image file and selecting Facebook from the "share" menu. Non-image files and folders are not supported at this time, and it is unclear if Apple or Facebook will allow more robust sharing options in the future.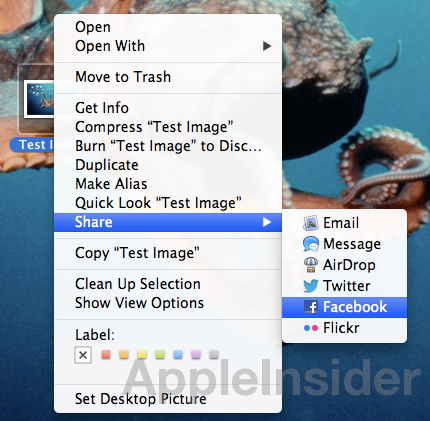 Aside from photo sharing, a seeming necessity for the social network scene, web browsers like Apple's Safari are another place where Facebook sharing can come in handy. Instead of clipping a webpage or linking directly to a source manually, the integrated system allows users to quickly share interesting sites with the click of a button.
Identical in appearance to the Share Sheet button seen in Safari on OS X 10.8.1, the beta version simply adds a Facebook asset to the list of supported services.
Once a user clicks on the Facebook option from the drop-down menu, a pop-up notification window appears alerting them that the sharing option has not yet been configured on OS X. A few simple steps are needed to register, with the only information needed being a Facebook username and corresponding password. The sign-in process is identical to Apple's solution for other services like Twitter and Flickr.
To page 2 of 3: Configuring Facebook integration
Configuring Facebook integration
Users are directed to OS X's Mail, Contacts and Calendars setup pane where an informational page describes what programs Facebook can access. Also noted are a number of settings options regarding sharing settings and permissions warnings.
In the beta, OS X did not ask for an administrator password when agreeing to Facebook's access permissions, however this could change when the software sees public release.
Facebook can access contacts stored locally on a Mac, which in turn can access those saved in iCloud depending on a user's sync settings. The option can be unchecked and is not required for operation.
The sharing UI is identical to the Twitter card seen in iOS 5 and OS X 10.8, complete with image thumbnail and space for text. Unlike the Twitter version, Facebook sharing allows users to specify who will see the shared post, a feature present in the network's web client and iOS app.
When posting photos, the Share Sheet allows users to place the image on their wall or in any of their photo galleries, including the automatically-generated "OS X Photos."
Facebook sharing also allows users to tag posts with location data, though the system is slightly inaccurate on OS X due to reliance on IP addresses rather than GPS in iOS.
After clicking "post," the resulting acton appeared immediately on Facebook's timeline.