Apple seeks ban on sale of 8 Samsung smartphones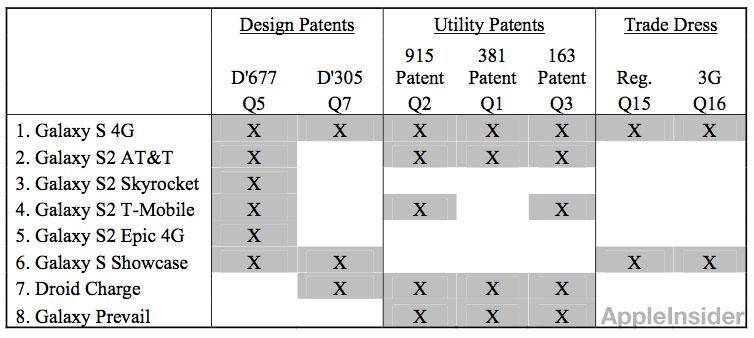 Though a jury found that a wide range of Samsung products infringe upon Apple's patented inventions, Apple has informed the court that it only seeks to ban the sale of eight Samsung devices.
Though the trial involved a total of nearly 30 Samsung devices, just eight were named by Apple in a court filing on Monday. The following are the devices for which Apple seeks a court-ordered injunction:
Galaxy S 4G
Galaxy S2 AT&T
Galaxy S2 Skyrocket
Galaxy S2 T-Mobile
Galaxy S2 Epic 4G
Galaxy S Showcase
Droid Charge
Galaxy Prevail
Cited in the filing as reasons for the injunction are a total of seven patents. Those inventions are the same ones that a jury determined last week have been infringed upon by Samsung's mobile devices.
In particular, the Galaxy S 4G has been found to have infringed on all seven patents cited by Apple: Design patents D'677 and D'3905; utility patents '915, '381 and '163; and two more trade dress patents.
Various forms of the Galaxy S2 were also found as infringing upon a number of design and utility patents, while the Galaxy S Showcase violates Apple's design and trade dress patents. The Droid Charge infringes on one design patent, while the Galaxy Prevail violates all three of Apple's utility patents in the case.
The full list represents just eight out of the 28 infringing products that were included in the jury's decision handed down last week. The jury also determined that Samsung should pay Apple more than a billion dollars in damages.
Apple's filing made on Monday asks the court for a preliminary injunction barring sale of the eight infringing devices, pending a potential final injunction against the smartphones.