Delta deploying 4500 Apple iPads at US airport restaurants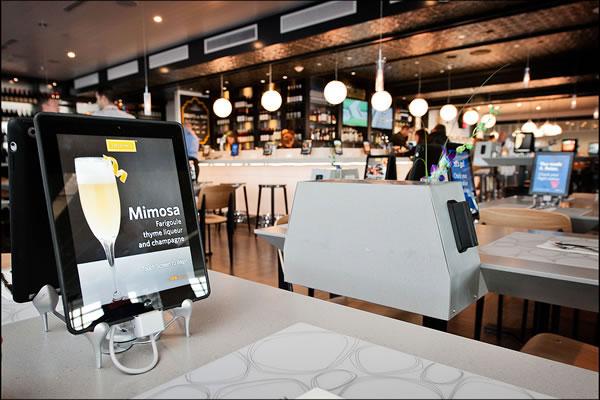 AppleInsider is supported by its audience and may earn commission as an Amazon Associate and affiliate partner on qualifying purchases. These affiliate partnerships do not influence our editorial content.
Delta Air Lines announced on Wednesday that it has begun deploying iPads in restaurants at Minneapolis-St. Paul International Airport, joining New York's LaGuardia Airport in serving customers food in 15 minutes or less.
Wednesday's kick-off utilizes 250 iPads, but will quickly expand to a total of 2,500 over the next 18 months. In all, Delta will have more than 4,500 iPads in use at three of its airport hubs over the next year alone.
Travelers at the Minneapolis-St. Paul International Airport can find iPads in use in Concourse G's MinniBar, Mimosa, and Shoyu. The iPads are being deployed in partnership with OTG, an airport-based food and beverage operator.
With iPads located inside airport restaurants in Minneapolis and LaGuardia, customers can order catered and customized meals through an intuitive visual menu. The food is then prepared fresh and served in 15 minutes or less.
Customers are also provided a browser that allows travelers to log into Facebook, Twitter and personal e-mail accounts. The iPads can also be used to check a flight's status, play games, and watch news video clips.
Once a customer is completed with the iPad, their personal information is securely removed immediately once the device's home button has been pressed. User information is also removed once the iPad has been left idle for two minutes.
"Delta is following through on our commitment to invest in our Minneapolis-St. Paul hub by improving the airport experience with these truly unique amenities," said Bill Lentsch, Delta's senior vice president – Minnesota Operations. "These enhancements on the ground coupled with our in-flight investments such as installing full flatbed seats in BusinessElite and Wi-Fi on more than 800 aircraft, make for a unique traveling experience on Delta that no other carrier can match."
Beyond the 250 iPads deployed on Wednesday, Delta and OTG have promised to have more than 2,500 iPads available for passengers to use in restaurants and gate-house areas in Minneapolis. St. Paul International Airport by the end of 2013. Delta and OTG have also deployed iPads in Terminals C and D of LaGuardia Airport.
"OTG and Delta are committed to dramatically improving a traveler's airport experience. This deployment is extremely exciting because it allows us to share our vision of how we're making the new airport experience a reality," said Rick Blatstein, chief executive officer of OTG. "We continue to expand our offerings around the nation and now to the millions of travelers that come through Delta's hub at MSP. Travelers flying through Minneapolis-St. Paul International Airport will be able to experience our customized technology along with quality, chef driven food."