Apple 'completely blown away' by iPhone 5 demand
By AppleInsider Staff
Friday, September 14, 2012, 02:32 pm PT (05:32 pm ET)
Less than half a day after opening iPhone 5 pre-orders, Apple has been hit with stockouts of all models, including those provided to U.S. wireless carriers.

In a statement to All Things D, Apple spokeswoman Nat Kerris said, "Pre-orders for iPhone 5 have been incredible. We've been completely blown away by the customer response."



Source: Apple



iPhone 5 pre-orders went live at 12:01 a.m. PDT, with customer demand at Apple's online store seeing a sellout of first-day shipment stock in about an hour. Launch day stock at the three major U.S. wireless operators, Verizon, AT&T and Sprint, likewise dwindled some hours later. Sprint is the only carrier with units available for delivery on Sept. 21, however stock is limited to the 32GB and 64GB models.

While the initial batch of launch day iPhone 5s are sold out, Apple and its partners are still taking pre-orders for the device, with the Online Apple Store now quoting ship-by dates of 2-3 weeks.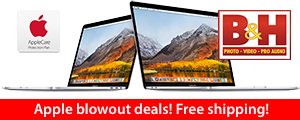 2017 12" MacBooks
Price
Save
1.2GHz/8GB/256GB (Gold)
$799.00+
$500
1.2GHz/8GB/256GB (Rose Gold)
$799.00+
$500
2018 13" Touch Bars
Price
Save
2.3GHz/8GB/256GB (Gray)
$1,649.99+
$150
2.3GHz/8GB/512GB (Silver)
$1,879.00+
$120
2.3GHz/16GB/256GB (Gray)
$1,949.00+
$50
2.7GHz/16GB/512GB
$2,449.00+
$50
2.7GHz/16GB/1TB
$2,849.00+
$50
2018 15" MacBook Pros
Price
Save
2.2GHz/16/256GB/555X
$2,549.00+
$50
2.2GHz/16/512GB/555X
$2,575.00+
$225
2.9GHz/16/1TB/560X
$3,199.00+
$300
2.9GHz/32/2TB/560X (Gray)
$3,999.00+
$700
2.9GHz/32/4TB/560X (Gray)
$5,999.00+
$700
Click here for dozens more configurations
+ Free shipping within the contiguous U.S.
Lowest Prices Anywhere!

13" MacBook Pros
Price
You Save
3.1GHz/8GB/256GB Gray
$1,679.00
$120.00
3.1GHz/8GB/256GB Silver
$1,704.00*
$95.00
3.1GHz/8GB/512GB Gray
$1,849.00*
$150.00
3.1GHz/16/512GB Gray
$2,099.00
$100.00
15" MacBook Pro
Price
You Save
2.8GHz/16/256/555 Silver
$2,199.00*
$200.00
2.8GHz/16/256/560 Gray
$2,299.00
$200.00
2.9GHz/16/512/560 Gray
$2,599.00
$200.00
2.9GHz/16/1TB/560 Gray
$2,999.00
$200.00
3.1GHz/16/512/560 Gray
$2,799.00
$200.00
3.1GHz/16/2TB/560 Gray
$3,899.00
$300.00

*

price with Promo Code:

APINSIDER

prices.appleinsider.com for more configurations