Some iOS 6 users reportedly suffering from Wi-Fi issues [u]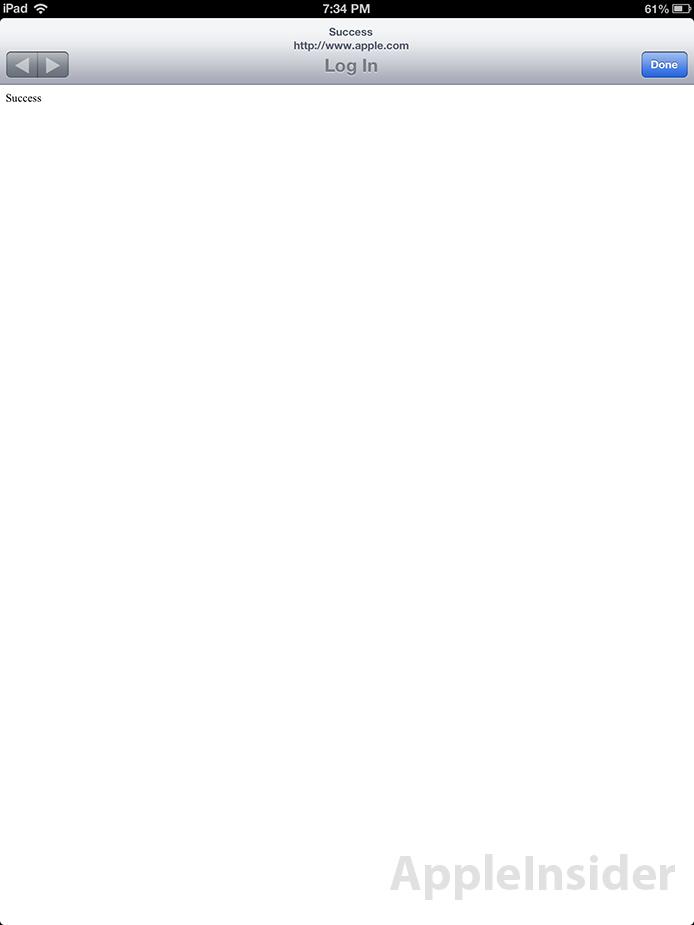 AppleInsider is supported by its audience and may earn commission as an Amazon Associate and affiliate partner on qualifying purchases. These affiliate partnerships do not influence our editorial content.
Just hours after Apple released iOS 6 to the public on Wednesday, users are already complaining of Wi-FI connectivity issues on the company's Support Communities website, possibly stemming from a network verification system flaw.
Update: Apple has quickly resolved the issue by reactivating the webpage iOS 6 uses for network verification purposes.
A number of AppleInsider readers have reported a "page not found" error when trying to browse in Safari on iOS 6. While the exact cause of the connectivity issues is unknown, it seems the problem started sometime after Apple rolled out the new mobile OS, as multiple reports poured in at nearly the same time.
It appears the problem is rooted in how iOS 6 handles network verification. In order to test whether an accessible Wi-Fi connection is present, Safari is led to a special page, which apparently has gone down.
Currently, Apple's Support Communities site has a 6-page thread discussing the matter, and with every passing minute a new user seems to confirm that they too are having difficulties. One forum member claims his iPhone was working fine when he first downloaded iOS 6, only to find hours later that his handset was unable to connect to the internet via Wi-Fi.
While AppleInsider has been unable to replicate the error message, both iPhone and iPad users who upgraded to the new OS are supposedly experiencing the same issue.
Based on the claims, the issue has arisen from a network verification process baked into the software, wherein the OS attempts to load a dummy page on Apple.com to detect if a users is connected to a paywalled network. Unfortunately, however, the verification page seems to lead to a 404 error, resulting in an inability to connect to Wi-Fi for many users.
Apple has been contacted regarding the alleged issue, and a response will be posted once an official statement has been released.