Third-party accessory makers held up by Apple's new Lightning connector rules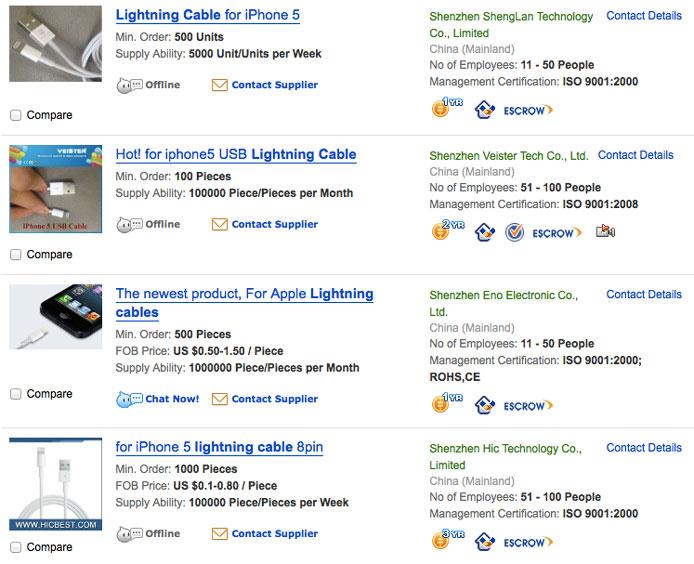 Apple is said to have made "significant changes" to its "Made for iPhone" rules, which has prevented third-party accessory makers from promptly getting their new Lightning-compatible accessories to market.
Apple's changes have tightened the company's control over Lightning accessories, according to a report published Wednesday by iLounge. It indicated that only Apple-approved manufacturing facilities will be given the ability to approve Lightning accessories, and Apple has not yet granted approval for any factories.
Unnamed sources who spoke with author Phil Dzikiy said that Apple is planning a "Made for iPhone" seminar in November in China. It's expected that third-party accessory makers will not be able to assemble and ship products in time for Christmas due to the short lead time.
AppleInsider was first to report last month on a chip found contained in Apple's new Lightning connector. Peter from Double Helix Cables has speculated that the hardware is an authentication chip that would prevent unauthorized companies from making their own Lightning cables and accessories.
Those unauthorized suppliers based out of China admitted last week they are still working to clone Apple's Lightning cable and integrated chip. But those companies will apparently be unable to make any products until they can reverse engineer Apple's Lightning technology, while authorized accessory makers still await Apple's approval of their factories and products.
Some companies began advertising accessories such as Lightning to 30-pin adapters on Amazon less than a week after the iPhone 5 was unveiled, but their scheduled ship dates continue to be pushed back. Once accessory, the Nanotch adapter, is currently advertised to be released on Oct. 30, however it remains to be seen if that deadline will be met.