Retailer purports to show 'iPad mini' in Wi-Fi, cellular models priced from 250-650 euros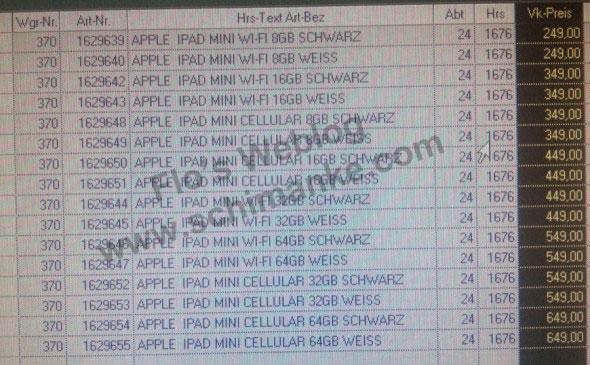 The internal inventory system of a German electronics retailer shows Apple's so-called "iPad mini" available in 16 different models, beginning at 250 euros and going as high as 650 euros.
The list of "iPad mini" models was reportedly captured from Media Markt, and was published on Sunday by Mobile Geeks. It shows an entry-level, Wi-Fi-only iPad mini model with 8 gigabytes of capacity available for 249 euros, which would be about $320 U.S.
However, the exchange rates for the rumored prices are likely not an indication of how much Apple's smaller iPad would cost in the U.S. For example, the iPad 2 sells for $399 in the U.S., and 399 euros overseas, while the new iPad with Retina display starts at $499 in the U.S., while it sells for 479 euros abroad.
The inventory list suggests that Apple plans to make its 7.85-inch iPad available in a large number of models to hit various price points. Beyond the entry-level model, the device is show in capacities of 16, 32, and 64 gigabytes, all with and without cellular connectivity.
At the high end, the iPad mini is rumored to cost 649 euros for a 64-gigabyte model with cellular data connectivity. Between the Wi-Fi-only and cellular models, there are also price point overlaps. For example, an 8-gigabyte iPad mini with cellular data costs the same as a 16-gigabyte iPad mini with Wi-Fi alone.
Apple is rumored to hold a media event to unveil its smaller, less expensive iPad on Oct. 23. If that date proves true, it's expected that invitations for the event would be sent out a week ahead on this Tuesday, Oct. 16.