Apple's iPhone accounts for 77% of AT&T's 6.1M smartphone activations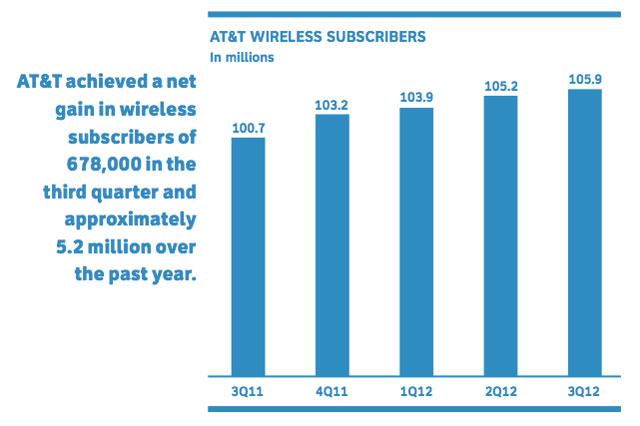 AT&T announced on Wednesday that it activated 4.7 million iPhones in the third quarter of 2012, once again giving Apple the lion's share of smartphone activations on the carrier.
With 6.1 million total smartphones activated in the quarter, Apple's iPhone accounted for more than 77 percent of AT&T's smartphones. Though Apple remained dominant, AT&T noted that sales for Android and Windows smartphones also reached record levels.
Of the 4.7 million iPhones activated on AT&T, 18 percent of those were new to the carrier. The carrier also noted that its postpaid results were affected by iPhone 5 inventory constraints, though AT&T's press materials did not indicate exactly how many iPhone 5 units were sold at launch.
Constraints on iPhone 5 inventory resulted in the "vast majority" of iPhone sales in the quarter going to existing customers. AT&T noted there was "considerable pent-up demand" for the iPhone 5, and that Apple's latest handset set a sales record during the first few days of the preorder period.
Last week, AT&T's chief competitor Verizon revealed that it sold 3.1 million iPhones in the third quarter, and that 650,000 of them were iPhone 5 units. Verizon sold a total of 6.8 million smartphones in the quarter, while Android devices accounted for 3.4 million smartphone activations.
Apple's share of the smartphone pie at AT&T is considerably higher because AT&T was Apple's exclusive iPhone carrier partner for years before Verizon, and later Sprint, joined the fold.
Overall, AT&T saw 63 cents diluted earnings per share, compared to 61 cents in the same period a year ago. It also saw record cash from operations of $11.5 billion, and free cash flow of $6.5 billion.
"We had another impressive quarter with strong earnings growth, record cash flows and solid returns to shareholders through dividends and share buybacks," said Randall Stephenson, AT&T chairman and chief executive officer. "In wireless, we had another excellent smartphone quarter, penetration of usage-based mobile data plans continues to climb, and our 4G LTE network build is ahead of schedule. And in wireline, our IP network continues to deliver strong gains in U-verse high speed Internet connections, which helped drive an almost 10 percent increase in broadband data ARPU."
AT&T's earnings come a day before Apple is set to report its own quarterly results. Apple's September quarter will include the first week of iPhone 5 sales.