Verizon sold 3.1M iPhones in Q3 2012, 650K were Apple's iPhone 5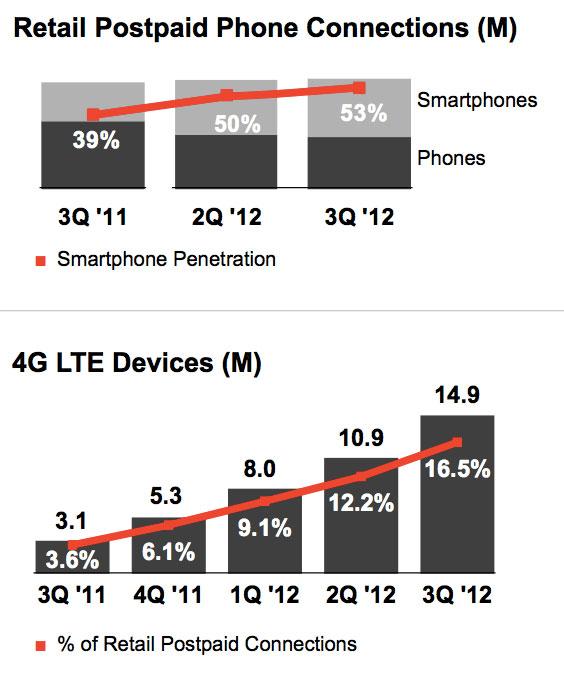 Verizon announced its quarterly earnings on Thursday, revealing that the nation's largest carrier sold a total of 3.1 million iPhones in the three-month span, with 650,000 of those being the new iPhone 5.
The iPhone 5 sales represent just a week's worth of the company's September quarter. The iPhone 5 went on sale in late September in the U.S. at carriers Verizon, Sprint and AT&T.
Verizon's earnings are the first indication of iPhone 5 sales since Apple announced it had sold 5 million units in the device's launch weekend in September. That number was lower than investors expected, as Apple struggled to keep up with demand.
While Verizon is the largest wireless carrier in the U.S., sales of the iPhone are typically larger at AT&T, because AT&T was Apple's exclusive carrier partner for years. AT&T will report its own quarterly earnings next week on Oct. 24, while Apple will report its results a day later.
The iPhone accounted for 46 percent of the 6.8 million smartphones Verizon sold in the quarter. The company also highlighted the newly released iPhone 5 as one of seven 4G LTE smartphones it launched in the third quarter.
The total number of Android phones sold by Verizon in the quarter was 3.4 million. That means that combined, the iPhone and Android devices accounted for 6.5 million of the 6.8 million total smartphones sold, leaving competitors Microsoft and Research in Motion to take the remaining 300,000 devices.
The presence of smartphones on Verizon's network also continued to increase, and they now represent 53 percent of handsets on its network. The total number of 4G LTE devices also grew to 14.9 million, accounting for 16.5 percent of handsets.
Verizon reported 64 cents in adjusted earnings per share, meeting market consensus. The largest carrier in the U.S. also added 1.535 million postpaid subscribers.
"In the third quarter, Verizon continued to deliver double-digit earnings growth and strong cash generation, and we remain solidly on track to meet our financial objectives for the year," said Lowell McAdam, Verizon chairman and CEO. "With our 4G LTE network advantage, well-received Share Everything Plans and unmatched product portfolio, Verizon Wireless continues to do an outstanding job of balancing growth and profitability. Wireless achieved record profitability in a quarter in which we reported the highest number of retail postpaid gross and net adds in four years."