Steve Jobs' Apple inspired super yacht revealed in Netherlands

"Venus," the Philippe Starck-designed super yacht commissioned by late Apple cofounder Steve Jobs, was officially launched in Aalsmeer by Dutch custom ship builder Feadship on Sunday, with Jobs' family on-hand for the unveiling.
Images and video of Venus were published by Dutch Apple blog One More Thing (via The Verge) , and show a sleek, minimalistic vessel sharing an aesthetic very much on par with the products Jobs' had a hand in creating at Apple.
According to reports, the roughly 80-meter long hull of the ship is made completely of aluminum, while huge plate windows adorn the wheelhouse, saloon and main deck entrances, giving the ship a clean, open appearance. Continuing the spartan styling inside, the wheelhouse uses seven 27-inch iMacs running navigation, systems control and other seafaring software to assist in operating Venus.
Not much is known of the cabin arrangement or number of crew needed to sail, but the super yacht is expected to be freighted from Aalsmeer to her home port in the U.S.
As a gesture of gratitude, each worker involved with the ship's construction was given an iPod shuffle with a "Venus" engraving, along with a note from the Jobs family thanking them for their craftsmanship.
Venus was first mentioned by Jobs' biographer Walter Isaacson in 2011:
As expected, the planned yacht was sleek and minimalist. The teak decks were perfectly flat and unblemished by any accoutrements. As at an Apple store, the cabin windows were large panes, almost floor to ceiling, and the main living area was designed to have walls of glass that were forty feet long and ten feet high. He had gotten the chief engineer of the Apple stores to design a special glass that was able to provide structural support. By then the boat was under construction by the Dutch custom yacht builders Feadship, but Jobs was still fiddling with the design. "I know that it's possible I will die and leave Laurene with a half-built boat," he said. "But I have to keep going on it. If I don't, it's an admission that I'm about to die."
Renowned French designer Philippe Starck caused a small media firestorm in April, when he announced that Apple would be releasing a "revolutionary" new product of his design within eight months. After a quick denial from Apple, Starck confirmed that the "product" was in fact the super yacht revealed today.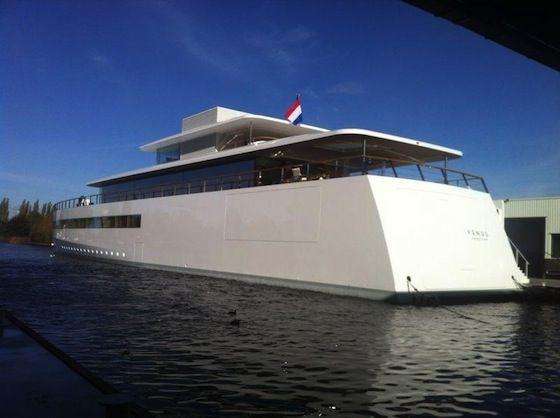 Jobs apparently began designing Venus after returning from an Italy to Turkey cruise, which he called his "best vacation" ever. He repeatedly redesigned the boat and nearly canceled the project due to illness in 2009.
"I didn't think I would be alive when it got done," Jobs told Isaacson. "But that made me so sad, and I decided that working on the design was fun to do, and maybe I have a shot at being alive when it's done."