Reported fourth-gen iPad benchmarks show faster processor, quad-core GPU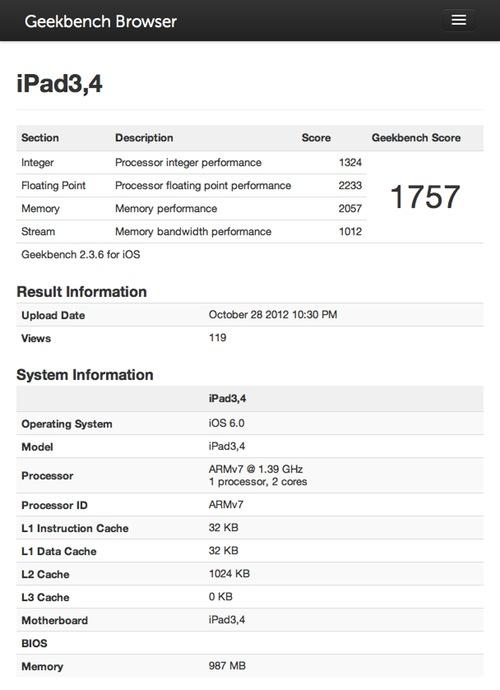 A post from Primate Labs, developer of online benchmarking website Geekbench, reveals what are believed to be the first scores of Apple's newest 9.7-inch iPad, showing that the performance of the tablet's A6X processor more than doubles the composite score of the third generation iPad.
According to Primate Labs' John Poole (via MacRumors), a device with the identifier "iPad3,4" logged a benchmark test on Sunday, with the device boasting an A6X chip clocked at 1.39GHz paired with 1GB of memory. This is similar to the die architecture found in the iPhone 5's A6 SoC, but that processor runs at a lower 1.3GHz to conserve energy.
Besides the higher clock speed, the A6X appears to be leveraging quad-core graphics, compared to the triple-core configuration seen in the iPhone 5, to power the high-resolution Retina display.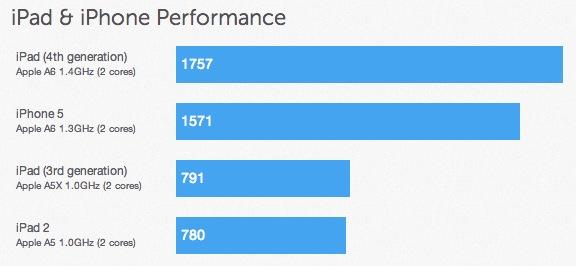 Overall, the fourth-generation iPad achieved a Geekbench score of 1757, outperforming the iPhone 5 by ten percent and more than doubling the scores seen with the third-generation iPad and iPad 2.