Apple examining headphones that can double as loudspeakers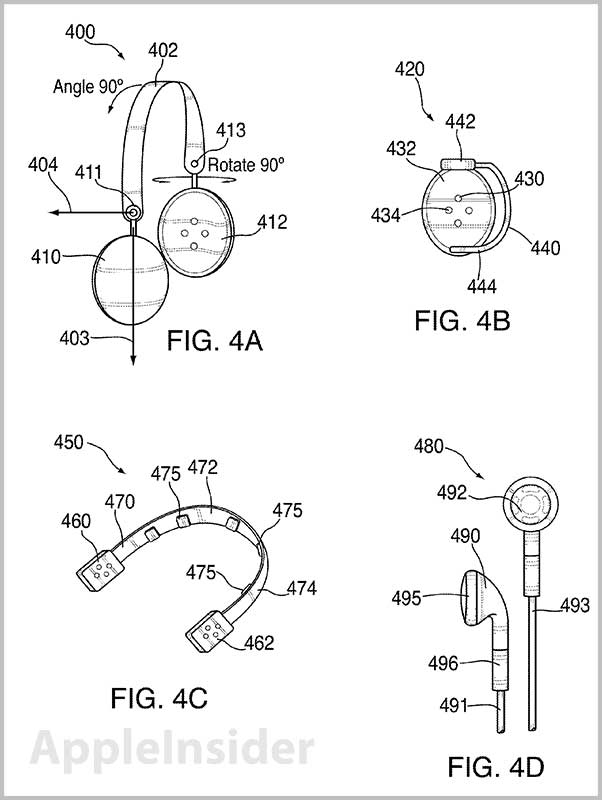 AppleInsider may earn an affiliate commission on purchases made through links on our site.
In a patent application with the U.S. Patent and Trademark Office on Thursday, Apple presented an invention for a "dual-mode headphone" that can transform from a normal set of earbuds to a more robust speaker system.
First filed for in 2011, the proposed system incorporates the usual in-ear headphone arrangement with specialized position-sensing circuitry and a power amplifier, allowing a user to dynamically switch from personal listening mode to speaker mode.
From the application's background:
Users typically listen to content on their portable devices using headphones, although there are speakers available that can be connected to the portable devices to enable multiple users to listen in at the same time. This approach, however, may require a user to carry both a headphone and speakers, or may require the user to rely on speakers built into the device, which may not be as powerful or have as high a sound quality as external speakers.
In operation, the headphones can detect its position and output sound in "headphone mode," where the amplifier is bypassed, or "speaker mode," which passes the audio signal through said amplifier. To prevent a user from being harmed by inadvertently activating the speaker mode while wearing the headphones, a separate sensor can be employed to detect when the unit is near a user's ears.
Any number of sensors can be implemented in the invention, including IR sensors, ambient light sensors, Hall effect sensors, and others. In one embodiment, a sensor that can detect contact with a user's ears is integrated into the headphone to prevent hearing damage.
In addition to automatically detecting positioning, users can manually activate speaker mode with physical buttons. An articulating arm or other design component can also be used to prop the headphones up when in speaker mode.
Finally, one embodiment describes an implementation that allows the headphone to be used as an in-ear set as well as a speaker by positioning extra ports directed away from the user's ears.
As with many patent applications, the fate of the dual-mode headphone remains uncertain, though Apple's new EarPods illustrated the company is still researching new design techniques for its audio products.