Apple wins design patents for page turning animation and iPad Smart Case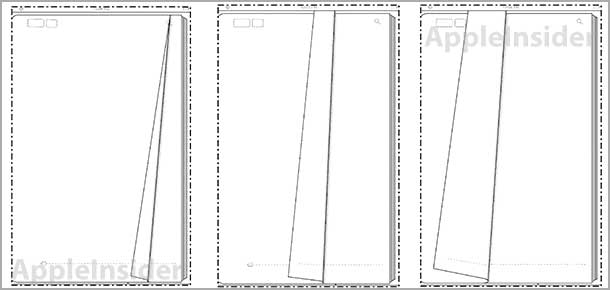 Among the multitude of patents Apple was awarded on Tuesday were two design properties for the page-turning animation seen in iOS apps like iBooks, and IP for the third-generation iPad's full-body case.
The page turning animation IP was first filed for in December 2011 as an ornamental design for a display screen. Much like other Apple design patents, the basic line drawing is adequate enough to get the basic feel for the animation. Users can interact with graphical elements closely resembling a piece of paper, using a finger to slowly curl the page over, or quickly turn the page with a swiping motion. The animation even allows for users to move their finger vertically, revealing the top or bottom portion of the next page much like a real binded book.
With iOS 6, Apple has a number of first-party apps that use such a "page curling" animation, including Maps and Calendar for iPad. Most recently, the animation was displayed prominently in an iPad mini ad that featured iBooks.
The second design patent issued to Apple on Tuesday was for the iPad Smart Case first debuted alongside the third-generation tablet in 2011. Like the original Smart Cover, the Smart Case turns the attached iPad on and off by using magnetic sensors in the iPad that interact with magnets embedded in the top cover, but adds an extra layer of protection for the tablet's aluminum chassis.
When the newest fourth-generation iPad was unveiled in October, Apple announced that the design of the new tablet was identical to the previous iteration, making accessory swapping a non-issue.