Apple looks to suppress noise created by iPhone 'vibrate' function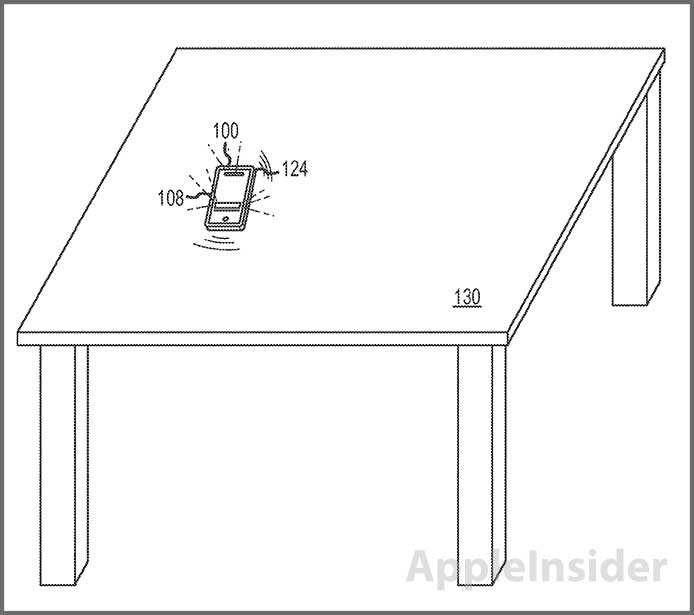 Apple is investigating ways to make the iPhone's "silent mode" truly silent by monitoring audible sound levels generated by a phone's vibrator and adjusting the mechanism if it becomes too loud.
Since the earliest days of portable telecommunications, devices like pagers incorporated a silent option to the standard beeping tones that alerted a user of an incoming message or, years later, cell phone call. The system is flawed, however, in that the so-called "silent mode" is not completely silent, especially when a device vibrates on a hard surface, causing a rattling noise often times more disruptive than a normal audible tone.
The current iPhone 5, with its aluminum uni-body construction, is another candidate that may be less than discreet in some circumstances. To remedy this longstanding problem, Apple has devised a method in which a phone's vibrations, as well as the result of said vibrations, are monitored by microphones or movement sensors. If these sensors detect conditions that may cause an unwanted disturbance, a number of mitigation methods are initiated, including tuning the vibrator and introducing feedback signals to reduce reverberation.
Apple's solution takes into account two types of haptic devices, or vibrators, commonly used in modern smartphones, both of which present separate problems. The usual rotating vibrator used in many devices has an eccentric weight attached to a spinning drive shaft, while an oscillating linear vibrator relies on magnetic force to drive a weight back and forth.
While the rotating motor is somewhat louder than its magnetically-driven cousin, it produces an arguably more violent vibration which can be an asset for those who wear thick pants or need a stronger alert. For reference, the CDMA version of the iPhone 4 and all versions of the iPhone 4S used a linear vibrator, while the iPhone 5 marks the return of the rotating system found in legacy models.
As described in the invention, movement, sound and visual sensors begin monitoring various attributes when a vibration alert is detected. The sensors can determine If the vibration is causing the phone to move or generate a noise louder than ambient noises in the surrounding environment.
Once a movement or sound threshold has been reached, the mitigation mechanisms kick in to modify the alert or stop it altogether. In some embodiments, the action of vibrator motor is adjusted. For a rotational vibrator, the frequency of the motor can be slowed, while the motion of a linear vibrator can be dampened by an electromagnetic force.
The patent application goes on to offer alternative alert methods that can be used when a vibrator is found to be disturbing, such as visual alerts or soft audio tones which are output at level deemed to be more quiet than the sound created by the phone's vibrations.
Such mechanisms do not exist in the current iteration of Apple's handset, though the technology may one day make its way to a future iPhone as an enhancement to the product line.