Nokia's dedicated 'Here' maps app hits the iOS App Store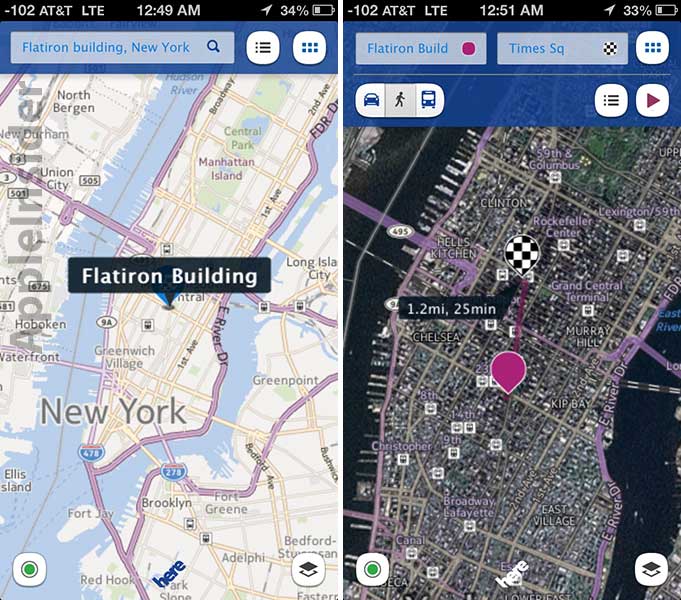 Nokia on Tuesday made good on a promise to bring its new "Here" mapping service to iOS as it launched a free app complete with offline caching and voice-guided walking directions.
First spotted by The Next Web, "Here" comes exactly one week after Nokia CEO Stephen Elop announced that the app would be available for iPhones, iPads and iPods sometime in the coming weeks.
According to Nokia, the HTML5-based mapping solution includes offline capabilities and, unlike Apple's own Maps app, voice-guided walking navigation and public transportation directions.
"Maps are hard to get right - but location is revolutionizing how we use technology to engage with the real world," said Nokia's Executive Vice President of Location & Commerce Michael Halbherr, who is responsible for Here. "That's why we have been investing and will continue to invest in building the world's most powerful location offering, one that is unlike anything in the market today."
The Finnish company also noted that future updates will come with 3D capabilities akin to Apple and Google's solutions, which will come from technology acquired by earthmine. Nokia is rolling out the mapping service on its Microsoft Windows Phone handsets as well as versions for Google's Android and Mozilla's Firefox OS.
Nokia's app is one of the first major no-cost mapping submissions to rival Apple's Maps app, which caused a flap with consumers and the media when it was released as part of iOS 6 in September. With Maps, Apple chose to move away from its longstanding partnership with Google Maps to a proprietary solution built completely in house. Upon launch, however, the program was fraught with problems like rendering issues and incorrect location data.
The internet search giant is said to be planning its own standalone iOS app that may see release soon as rumors claim the company is distributing near final versions of the software to outside testers. One of the major gripes with Apple's solution is the lack of Google's Street View option, however that feature was brought back to mobile Safari with the Google Maps web app in October with limited functionality.
Nokia's Here is available now for iOS as a free download from the App Store.