Developers asked to focus on AirPlay, AirPort & Graphics in first OS X 10.8.3 beta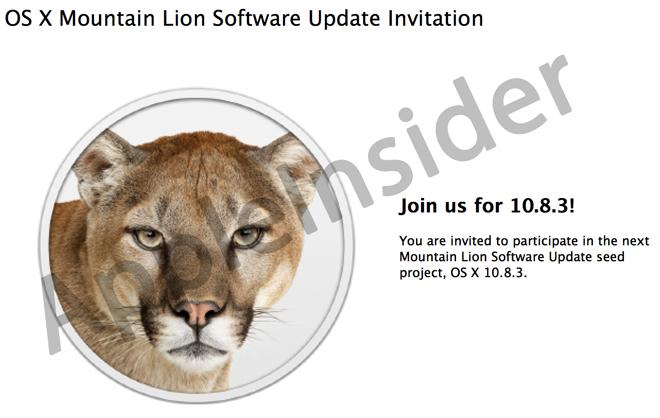 Apple on Monday supplied developers with its first pre-release beta of OS X 10.8.3, a forthcoming security and maintenance update for its Mountain Lion operating system.
People familiar with the beta software indicated to AppleInsider that it is identified as build 12D32. Developers have reportedly been asked to focus their testing on AirPlay and Graphics, as well as AirPort and Game Center.
As OS X 10.8.3 is the first beta of the software, there are reportedly a handful of known issues. Specifically, the preferences in Software update may appear shifted, particularly in non-English localizations of the software.
Apple was also said to have warned developers that some background graphics may appear black or transparent after waking their machine from sleep while running OS X 10.8.3.
The new beta software also may have issues when switching between applications using the Command-Tab keyboard shortcut. And Safari 6.0.2 is not offered to systems with the latest Mountain Lion beta installed, so Apple has advised developers to update to the latest Safari before installing built 12D32.
Apple promised developers last week that it would seed the first beta of OS X 10.8.3 after Thanksgiving weekend. Developers first began receiving invitations to test the software on Oct. 31, but Apple later explained that those e-mails were sent out "too early."
The current up-to-date build of Mountain Lion is OS X 10.8.2. That software arrived in September, bringing system-wide Facebook integration to the Mac.