Apple's new 27" iMac boasts up to 54% performance improvement over predecessor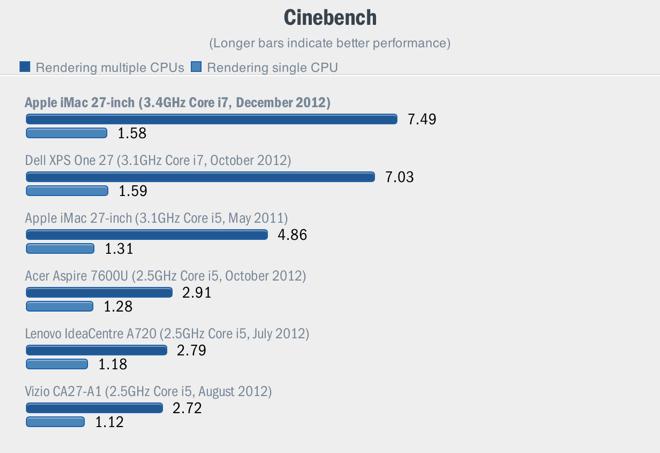 Benchmarks for Apple's redesigned 27- and 21.5-inch iMac models are now available, showing significant performance increases over the previous-generation models.
Among the first to get their hands on the 27-inch iMac was CNet, which published its review of the big-screen model on Friday. The 27-inch 2012 iMac won't become publicly available until later in December, with Apple's online store currently advertising estimated shipping times of two to three weeks.
In their tests, the new high-end 27-inch iMac, with a 3.4-gigahertz Core i7 processor, scored 7.49 points in a multi-core rendering Cinebench test. That bested the 4.85 score of the May 2011 iMac with 3.1-gigahertz Core i5 CPU by more than 54 percent.
The new hybrid Fusion Drive also offered major performance gains in iTunes encoding, as the new 27-inch iMac took 52 seconds in their test, compared with 86 seconds in the previous-generation model.
An image processing test with Photoshop also reduced time necessary from 236 seconds in the 2011 model to 199 seconds in the redesigned 2012 model.
Wider tests of the 27-inch iMac are not yet available with the hardware not on sale to the public, but a number of tests with the 21.5-inch variety were published on Friday by Primate Labs, maker of the Geekbench testing software. The late 2012 21.5-inch iMac with a 3.1-gigahertz Intel Core i7 processor scored 12,447, which was about 9 percent better than the mid-2011 27-inch iMac, and nearly 25 percent faster than the identically sized 21.5-inch model from last year.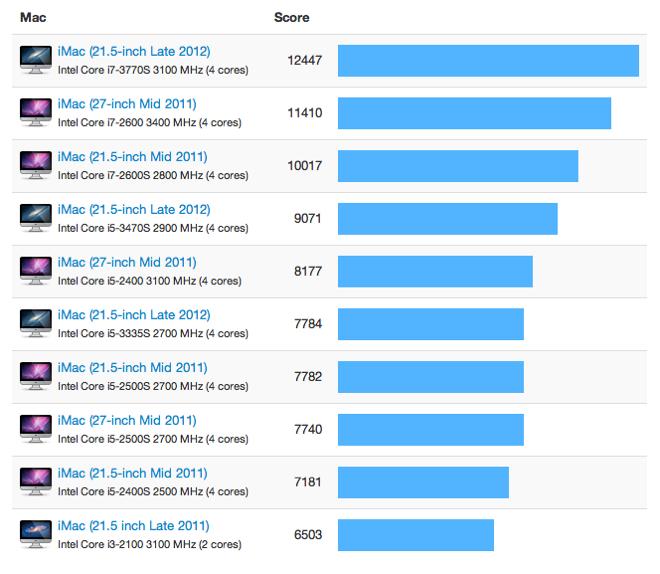 In its review, CNet called the 27-inch model an elite all-in-one desktop that makes it one of the best available on the market. The publication gave the new iMac a score of 4 out of 5 stars.
"This is a computer for serious, performance-driven users, particularly those who need a high-resolution display, and fast graphics and disk performance," they concluded.
The 21.5-inch iMac is now available to order from Apple, while the 27-inch model is available for preorder. Official Apple authorized resellers are also offering preorders for both models, which are expected to be in limited supply this holiday.