Tim Cook named runner-up for Time's Person of the Year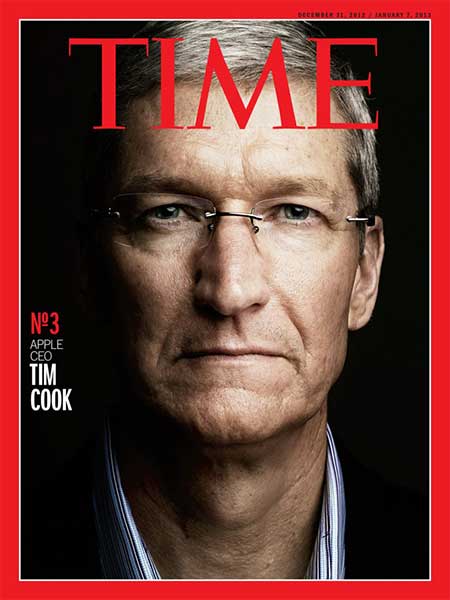 AppleInsider may earn an affiliate commission on purchases made through links on our site.
Time on Wednesday announced President Barack Obama as the magazine's Person of the Year 2012, with Apple CEO Tim Cook being a runner-up next to Pakistani schoolgirl Malala Yousafzai, Egyptian President Mohamed Morsi, and scientist Fabiola Gianotti.
In Time's runner-up profile, the magazine described Cook as "the Technologist" who took over as CEO of the biggest company in tech shortly before legendary tech innovator and Apple cofounder Steve Jobs died in 2011.
"He inherited the most valuable company in the world from one of the greatest innovators in history. In 2012 he made Apple his own," Time said.
The magazine pointed out that Cook's ascension was the first transfer of power in Apple history to not involve the ousting of the former CEO.
"Each time the way that the CEO was named was when somebody got fired and a new one came in," Cook said. "Steve wanted the CEO transition to be professional. That was his top thing when he decided to become chairman. I had every reason to believe, and I think he thought, that that was going to be in a long time."
While Jobs' choice to tap Cook as his heir apparent was questioned at the time, the new Apple CEO dispelled any doubts as to his ability to lead after raising the company's market capitalization $137 billion. Apple is now worth more than Microsoft and Google combined, leading closest runner-up and former world's largest company Exxon Mobil by $83 billion.
In the three-page profile, Time's Lev Grossman describes Cook as almost the polar opposite of Jobs, saying he's "a seducer, a Southern drawler, slow and soft-spoken."
Reiterating previous quotes given to other media outlets, Cook said Jobs didn't want to a facsimile of himself running Apple, nor did he want that person burdened by his shadow.
"He said, 'From this day forward, never ask what I would do. Just do what's right,'" Cook said of Jobs.
The bio goes on to draw out a timeline of Cook's early days, from his birth place of Mobile, Ala., to his graduation from Auburn University to his time at IBM and Compaq.
Cook took the reins from Jobs in August 2011, a little over one month before Jobs passed away following a long bout with cancer.