Apple may acquire crowd-sourced traffic and navigation service Waze

Apple may bolster its iOS Maps application by acquiring popular crowd-sourced traffic and navigation service Waze, according to a new rumor.
Apple is said to be "sniffing around Waze" for a potential acquisition, according to a report from TechCrunch published on Wednesday. Both companies declined to comment, but a similar rumor also cropped up from an Israeli website.
Waze (Free, App Store) was one of the alternative mapping applications recommended by Apple in September after customers complained that the new Maps application in iOS 6 was not up to par. Apple replaced Google Maps data with its own proprietary solution with the launch of its latest mobile operating system.
A free application for iOS, Waze is pitched by the company as a "fun, community-based traffic & navigation app." It claims that more than 30 million people are using the service.
With Waze, users can share real-time information on traffic congestion, gas prices, accidents, speed traps and checkpoints, and more. Some data is automatically reported by simply having the iPhone application open while driving.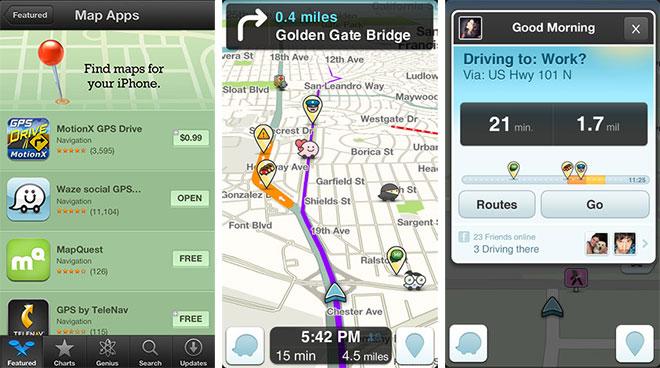 Apple has acquired prominent iOS application developers before to bolster its mobile platform. Most significantly, the company purchased Siri, a voice-driven personal assistant application, for about $200 million in 2010. The technology eventually became integrated into iOS with the launch of iOS 5.