Apple's share of US mobile phone market grows to 18.5%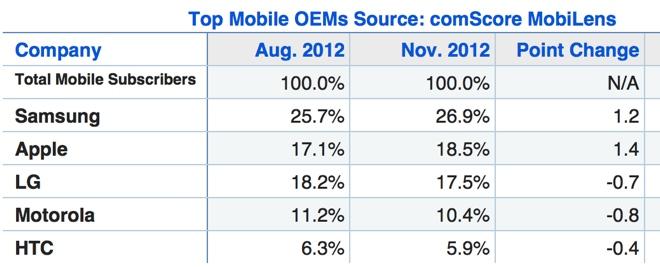 A new survey of U.S. mobile subscribers has found that Apple's iPhone continues to take a larger share of the overall market, up 1.4 percentage points to 18.5 percent.
Apple's growth in the three-month span ending in November gave it the largest point change of all handset makers. Apple's growth was enough to put it ahead of LG, which fell from 18.2 percent of the mobile market in August to 17.5 percent in November, good for third place.
Apple's's chief rival, Samsung, saw its share of active U.S. users rise 1.2 percentage points, growing its market leading share to 26.9 percent. The data includes owners of both smartphones and "feature" phones.
With Samsung in first, Apple in second, and LG third, Google-owned Motorola took fourth in the survey, accounting for 10.4 percent of users. Motorola's share slid 0.8 percentage points between August and November.
Finally, HTC was the fifth most popular handset maker among mobile subscribers, with a 5.9 percent share, down 0.4 percentage points from August.
In terms of smartphone platforms, Google extended its lead by 1.1 percentage points, as Android accounted for 53.7 percent of all active smartphone users in the U.S.
Apple also grew its share but couldn't keep pace with Google: iOS accounted for 35 percent of the market, up 0.7 percentage points from August.
Google and Apple continue to dominate the smartphone market and push out competitors, as RIM, Microsoft and Nokia's Symbian all saw their market share slide in November. Together, RIM and Microsoft make up just over 10 percent of the U.S. smartphone market, while Symbian has just a half-percent.