Facebook updates Messenger app with voice messages, VoIP calling in testing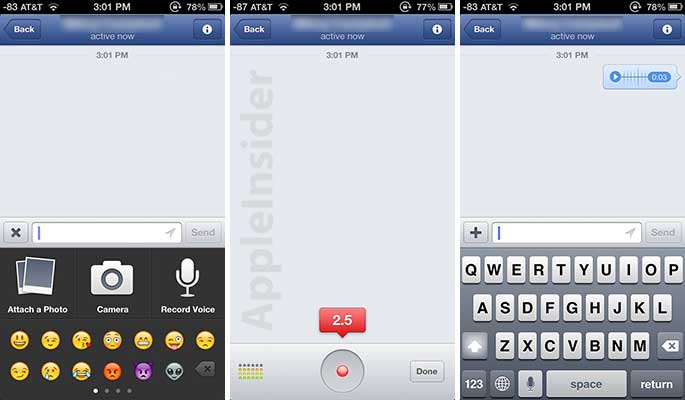 AppleInsider may earn an affiliate commission on purchases made through links on our site.
Facebook on Thursday issued an update to its Messenger app for iOS and Android, bringing voice over IP functionality to the social network's alternative to Google Voice and Apple's iMessage.
With the newly introduced voice capabilities, Facebook Messenger users can record and send voice messages up to one minute in length in lieu of simple texts.
To operate the data-driven voice function, users simply press the "+" button to the left of the text input box to bring up the emoticon and photo attachment menu, which is now home to "Record Voice." In recording mode, users press and hold a record button and speak into the iPhone's mic. A generic equalizer display to the left of "record" shows when volumes levels are too low or are clipping, while a running message timer counts up to 60 seconds. Once the voice snippet is complete, users release the record button and the message is sent.
In addition to the voice message function, Facebook is also working on true VoIP calling through the Messenger app, which the company says will be rolling out over the "next few weeks." As of this writing, the free calling service is being beta tested in Canada.
While other dedicated VoIP apps like Skype are already available, Messenger grants access to users' Facebook friends lists, which may be more appealing to some. If all goes well in Canada, Facebook is reportedly planning to bring the VoIP service to the U.S. and Europe.
The standalone Facebook Messenger iOS app is a free downloaded from the App Store.