Apple's 27" iMacs continue to face production issues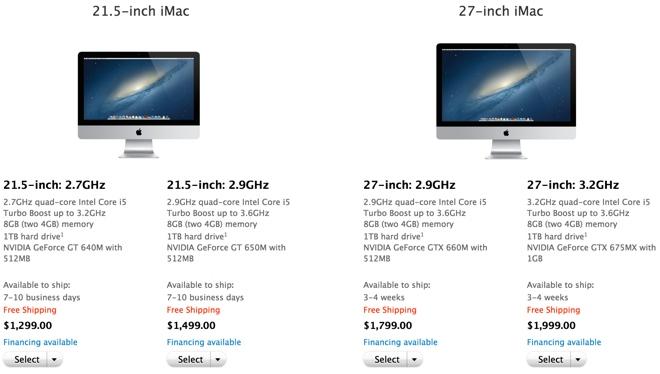 Apple is still facing manufacturing issues with its new big-screen 27-inch iMac, though a report claims the issue could start to improve in February.
Citing industry sources, hit-or-miss DigiTimes reported on Thursday that mass production issues can be pinned on iMac panel supplier LG Display. The problem apparently stems from full lamination issues in producing the panels.
Apple and LG are only able to produce about 100,000 units a month, according to the report. The issues do not apparently apply to the 21.5-inch iMac, which has reached monthly shipments of between 300,000 and 400,000.
AppleInsider previously noted on Monday that Apple's iMacs remain in short supply more than a month after the new all-in-one desktop launched. In fact, Apple's reseller channel remains completely out of stock of the 21.5-inch model.
Apple's online store advertises that the 27-inch iMac will ship to new orders in three to four weeks. The wait isn't quite as long with the 21.5-inch model, which ships in 7 to 10 business days.
Apple CEO Tim Cook said publicly in October that there would be "significant shortage" of iMacs in the December quarter. And analyst Ming-chi Kuo of KGI Securities was first to reveal in August that the new screen lamination process used in building the new iMacs is particularly difficult with the larger 27-inch model.