'iPhone 5,' 'iPad mini' among 8 new Apple products coming before end of 2012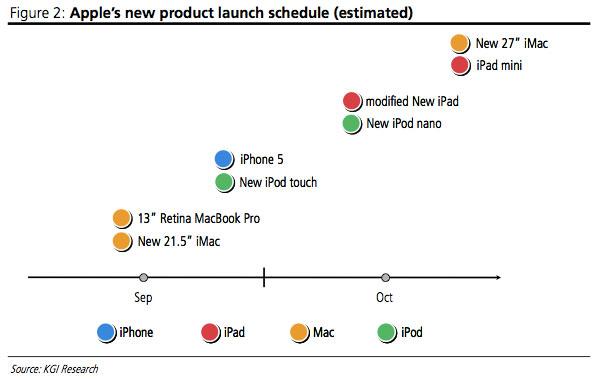 Apple is gearing up for a monster holiday season with a total of 8 new products reportedly set to go on sale, including a new iPhone, a smaller iPad, new iPods and updated Macs.
Ming-Chi Kuo with KGI Securities indicated on Friday that Apple's new product launch schedule for the fourth quarter of 2012 will be jam-packed with new devices. Chief among them is the so-called "iPhone 5," which Apple is expected to unveil at a media event on Sept. 12.
According to Kuo, September is also likely to see the unveiling of a 13-inch MacBook Pro with Retina display, a new iPod touch, and a new 21.5-inch iMac.
Then, in October, reports have indicated that Apple is planning to hold a second media event at which it will unveil a smaller iPad with a 7.85-inch display. Joining the so-called "iPad mini" in October, according to Kuo, will be a new iPod nano, a "modified new iPad," and a new 27-inch iMac.
Apple's crowded fall lineup is a result of some component and assembly issues that the company allegedly experienced with new products earlier in the year. Kuo indicated that some products were intended for release late in the second quarter or early in the third quarter of 2012, but production problems led to internal delays.
With the new iPhone, Kuo said the main issue has been with assembly of the device. He said the in-cell touch panels that Apple is expected to utilize for the next iPhone have not been an issue for production.
As for the "iPad mini," Apple has reportedly seen production yield issues with a "very thin panel module" being utilized in the new device.
As for the "new iPad" that Apple is apparently planning to launch, Kuo said the hardware will look largely identical to the current model. He said the most noticeable change will be adoption of the new 9-pin dock connector Apple is expected to feature in the new iPhone, iPod touch and iPad mini.
The new iPod touch and iPod nano will also feature new panel technology and sport all-new designs this year, according to Kuo. In particular, the new iPod nano is expected to feature wireless connectivity that will allow it to download content from the iTunes Store and iCloud.
The difficulty in placing a Wi-Fi chip inside of the new iPod nano is likely what caused an internal delay for that product, Kuo said. He believes the problem has been resolved, allowing Apple to launch the product in mid-October.
Finally, as for the new Mac hardware, Kuo said the 13-inch MacBook Pro with Retina display will feature an all-new design and an entry price between $1,100 and $1,300. He expects strong demand for the new notebook will make it difficult for Apple to meet market demand prior to mid or late October.
The new iMac will not have a Retina display this year, however, he said. The all-in-one desktop is expected to be updated with a new design that will improve display quality.
"Apple has demanded full-lamination between the panel and the cover glass," Kuo wrote. "Lamination for the relatively large 27-inch panel comes with a lower yield, so we expect the 27-inch iMac to trail 21.5-inch iMac by 6-8 weeks in hitting the marketplace."