Rumor: Fifth-gen iPad, second-gen iPad mini to debut in March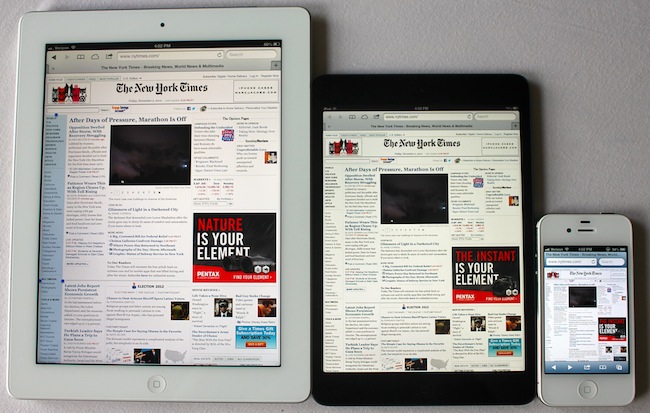 Apple's iPad lineup is now on a twice-a-year refresh cycle, according to a new rumor, which pegs both the full-size iPad and iPad mini as due for updates in March.
Brian White of Topeka Capital Markets said his checks with industry sources at this week's CES event in Las Vegas, Nev., indicated both the fifth-generation iPad and second-generation iPad mini will debut this March, just five months after the last update was announced.
White was told that the new "iPad 5" will be lighter and thinner than the fourth-generation model Apple released late last year. The updated model features a new A6X processor and Apple's smaller Lightning chip but maintained the same design as the third-generation iPad released last March.
As for the iPad mini, White said the second-generation device is expected to have the same form factor. A new model would likely just have upgraded components, such as a faster chip.
No mention was made of a potential high-resolution Retina display in a new iPad mini. One report from last month claimed Apple was focused on boosting the resolution of the next-generation iPad mini.
Though many industry insiders attend CES, Apple does not have an official presence at the annual event. White did not indicate the source of his information aside from unnamed "checks" at the show.
White also reported last week that Apple is expected to debut new iPhones this summer in more sizes and colors, expanding the lineup from the current black and white options. He expects the new iPhones to debut in the May-June timeframe, which would be earlier than the last two years.