Apple's iOS retains top spot in US with over 51% share of smartphone OS sales for Q4 2012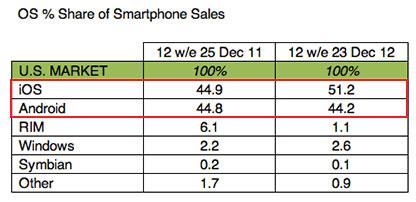 Accounting for over a 51% share of all smartphone OS sales in the U.S., Apple's iOS continues to be the market leader as existing customers move away from rival platforms like Android and RIM, or upgrade older iPhones to new models.
According to data released by Kantar Worldpanel ComTech on Tuesday, iOS accounted for 51.2 percent of all U.S. smartphone OS sales for the 12-week period ending on Dec. 23, 2012, up over 7 percent from 44.9 percent in 2011. The market research group conducts more than 250,000 interviews per year in the U.S. to track mobile phone purchasing behavior, associated bills and other metrics.
Apple's increased performance appears to be somewhat at the cost of Android as Google's mobile OS marketshare declined from 44.8 percent in quarter four 2011 to 44.2 percent over the same period in 2012. The biggest contraction in marketshare was felt by beleaguered BlackBerry maker RIM, which suffered a drop from 6.1 percent of smartphone sales in the last quarter of 2011 to 1.1 percent during the same period in 2012.
"In particular, 36% of iOS sales were derived from other smartphone users over the last year," said Kantar Worldpanel ComTech analyst Mary-Ann Parlato. "While this figure remains stable over time, the proportion of Android users moving towards the Apple brand increases. 19% of iOS sales over the last year were derived from Android users, compared to 9% in 2011."
In a breakdown of carrier share, the trend toward iOS is most apparent with Verizon where 49 percent of iPhone sales were derived from users of other smartphone brands, with 30 percent being former Android owners. Overall, during the 12 weeks leading up to Dec. 23, the percent of iOS users on Verizon's network hit 58.8 percent, a huge jump from the 47.4 percent seen in the year ago quarter. Android, which led iOS last year with 47.5 percent, fell to 38.5 percent for the closing weeks of 2012.
AT&T saw less erosion to its Android market with only 6 percent of iPhone purchasers switching from Google's OS. Overall, iOS share was up to 74.7 percent compared to last year's 66.7 percent, while Android dropped to 19.6 percent from 22.5 percent year-to-year.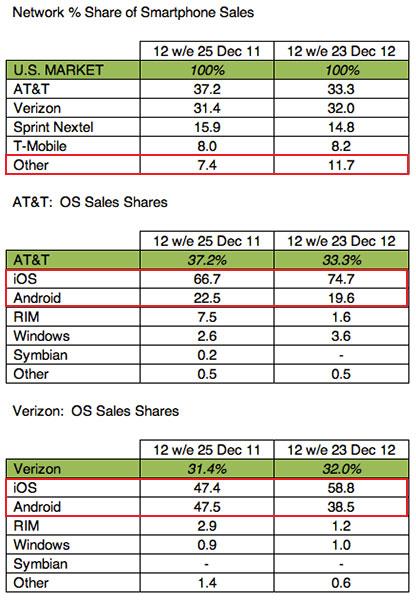 iPhone upgraders accounted for 35 percent of iOS sales over the three-month period. AT&T was able to rely on its massive installed Apple user base to pull in 55 percent of new iOS sales from existing iPhone owners. Customers upgrading to a new Apple handset accounted for 37 percent of Verizon iOS sales for the quarter.
For quarter four, AT&T sold the most smartphones, capturing 33.3 percent of the market and was followed closely by Verizon's 32 percent share. Sprint came in a distant third with 14.8 percent of all smartphone sales.
According to the research firm, Apple's strategy of releasing yearly iPhone revamps alongside price cuts to previous generation handsets is effectively extending the company's reach into low-tier markets.
Recent reports claim that Apple is looking to be more proactive in targeting budget-conscious smartphone buyers, and will release a more affordable iPhone sometime this year. While still a rumor, some analysts believe the unannounced device will boast a design similar to the current iPhone 5, but will reduce costs by replacing expensive aluminum and glass parts with polycarbonate and plastic.