Apple and Samsung help drive global smartphone shipments to record 700M units in 2012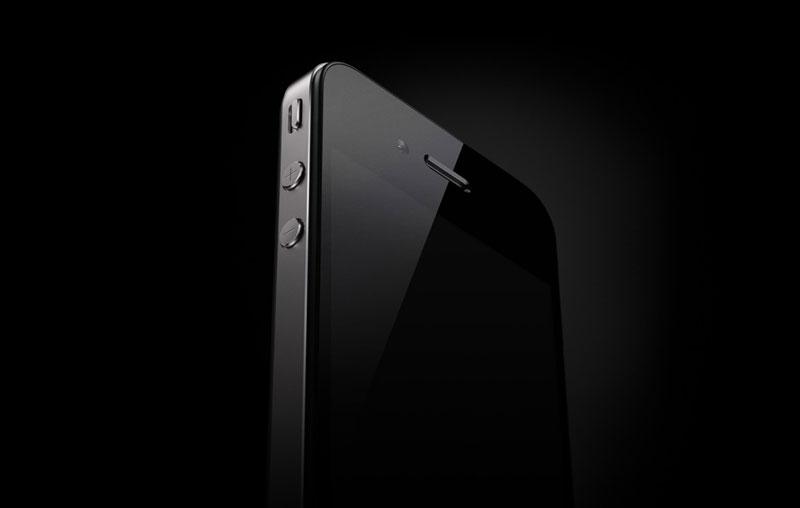 AppleInsider may earn an affiliate commission on purchases made through links on our site.
New research released on Thursday from market analysis firm Strategy Analytics shows that Samsung and Apple drove global smartphone shipment growth to a massive 43 percent in 2012, which amounted to a record breaking 700 million units shipped, with the Korean company's share skyrocketing to nearly one third of the market.
According to the firm's Wireless Smartphone Strategies (WSS) service, Samsung took the lion's share of shipments with a 30.4 percent slice of the market to extend its already wide lead over second and third place manufacturers Apple and Nokia.
In 2012, Apple shipped some 135.8 million iPhones, the only smartphone line sold by the Cupertino, Calif., company, while Samsung's diverse lineup of handsets brought in 213 million shipments. Nokia came in a distant third with 35 million units shipped last year.
Samsung's performance amounted to the most units ever shipped by a smartphone vendor in a single year, smashing Nokia's 2010 record of 100.1 million units shipped.
As for Apple, the company also saw strong shipments and grew 46 percent annually to garner 19.4 percent of the global market in 2012. The performance is almost identical to the iPhone's 19 percent marketshare captured in 2011. Strategy Analytics said Apple's growth was somewhat stunted due to the company's limited presence in developing regions like Africa.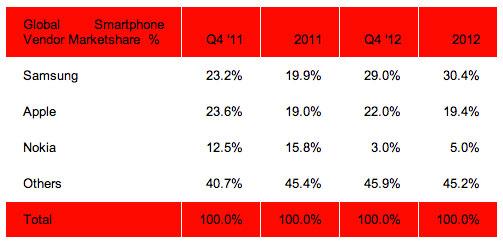 Smartphone adoption is booming, clearly seen by a recent report that found the worldwide market stood at just over one billion users at the end of 2012's third quarter.
"By the third quarter of 2011, we estimate there were 708 million smartphones in use worldwide," said Strategy Analytics Senior Analyst Scott Bicheno at the time. After a further year of soaring demand, the number of smartphones in use worldwide reached 1.038 billion units during the third quarter of 2012."
On a month-to-month basis, worldwide smartphone shipments grew 38 percent, jumping from 157 million units shipped in the fourth quarter of 2011 to 217 million in quarter four 2012. The huge boost was was included in the 700.1 million units shipped over the course of last year, compared to 490.5 million in 2011.