Apple terminates contract with supplier after audit finds underage labor violations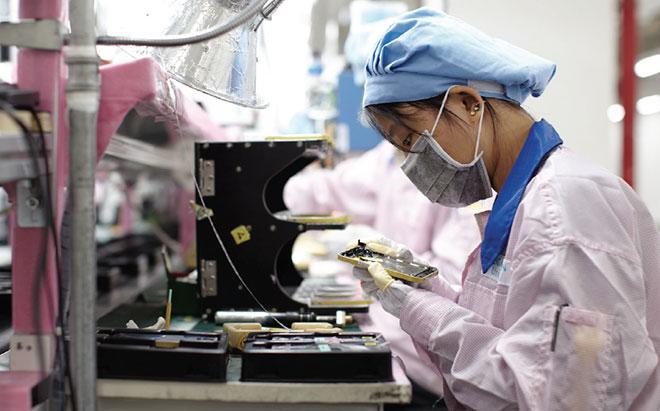 In Apple's seventh Supplier Responsibility Report released late Thursday, it was revealed that the company no longer does business with a Chinese component supplier due to that firm's use of underage workers.
According to the 37-page report, an audit of Guangdong Real Faith Pingzhou Electronics in January 2012 found the supplier responsible for 74 underage labor violations, prompting Apple to end its relationship with the circuit board manufacturer.
Apple's code of labor states that child labor is strictly restricted: "The minimum age for employment or work is 15 years of age, the minimum age for employment in that country, or the age for completing compulsory education in thatcountry, whichever is higher."
For the 2013 report, Apple conducted 393 audits across its supply chain, a 72 percent increase from the year before. In all, audits were conducted in 14 countries covering 1.5 million workers at manufacturing facilities and non-production facilities like call centers and warehouses. The company's audits were broken down into five distinct categories: labor and human rights, health and safety; environment; ethics; and management systems.
Overall practices compliance for labor and human rights, which covers concerns like anti-discrimination practices and wages, was at 77 percent while management systems compliance stood at 73 percent. Of note was a high level of adherence to working hour limits, which is capped at a maximum 60-hour work week with at least one day of rest per seven days of work. As for wages, the company required eight facilities to pay back excess foreign contract worker fees worth $6.4 million after they were found to be using bonded labor.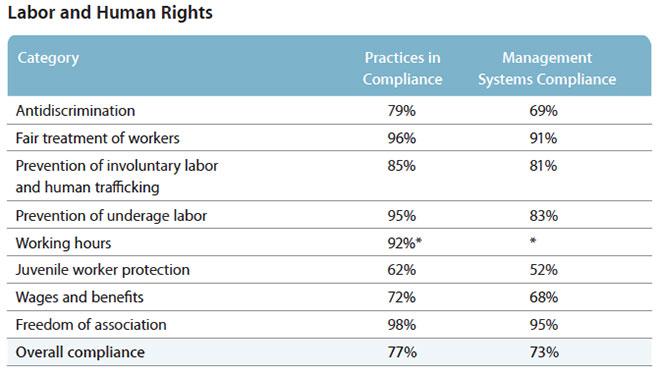 Health and safety checks practices and management systems were similar to the above category with 76 percent and 70 percent compliance, respectively. No core violations were found.
Environmental issues have traditionally been a problem for Apple in China, especially concerning the use of hazardous substances pollution. For 2012, overall compliance and management systems compliance was found to be 78 percent and 72 percent, respectively. Besides one supplier being put on probation for dumping a hazardous waste cutting oil into the restroom receptacle, no egregious violations were found.
Ethics was the highest scoring category with practices and management systems compliance at 97 percent and 90 percent, respectively. Metrics measured included business integrity, protection of whistle-blowers and protection of intellectual property. No significant actions were taken, but four facilities gave Apple's audit team falsified payroll and attendance records. These facilities ultimately furnished the correct records and were put on probation.
Management systems was the poorest scoring of the five categories with respective practices and systems compliance at 69 percent and 68 percent, though no core violations or remedial actions were reported. The audit found 158 facilities had no procedures in place for auditing their own suppliers or did not perform adequate reports, 154 facilites did not conduct internal audits and 138 facilites failed to conduct a management review.
Apple has been extremely proactive in ensuring its supply chain is up to international labor standards after the company's 2011 Progress Report found underage labor violations at a partner manufacturer. On top of its self-auditing practices, Apple in 2012 became the first tech company to join the Fair Labor Association.