Apple buys 18 'axis-based' user interface patents from Canadian holding company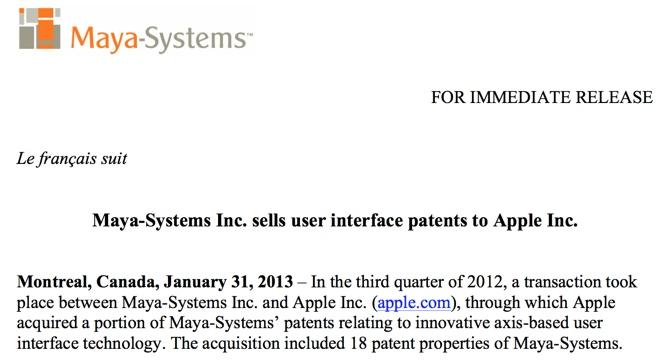 Apple last year bought a number of patents from Maya-Systems Inc. that cover an "intuitive way to display any virtual content in a superior manner."
Maya-Systems announced the transaction in a press release issued on Thursday in which the Montreal-based company touted that its "axis-based user interface is ahead of the growing demand for axis-based user interfaces."
The company's description says it specializes in "developing advanced content management technologies." It was founded in 2002.
Promotional material from Maya-Systems showcases a file sorting system that aims to save time and ease access for personal and corporate users. Documents can be synced through the cloud and sorted based on relevant time, categories and more.
In the company's examples, files can be reorganized in a manner relevant to each client and project. And for personal users, e-mails, documents, photos and other files can be stored in one place, and quickly organized based on subject matter, such as a particular project or client.
"We dealt with a significant number of sophisticated buyers," said Mathieu Audet, founder of Maya-Systems. "We are pleased to have secured the transactions with Apple. Our patents have been analyzed thoroughly by many potential buyers. We are confident they are strong assets."
No price for the intellectual property was given, but Maya-Systems did reveal that the acquisition included 18 patent properties.
The company is the creator of "IamOrganized," which it advertises as the "first all-in-one file manager, sharing platform, cloud storage and workflow management tool to utilize innovation axis-based user interface technology."