128GB iPad with Retina display now available from Apple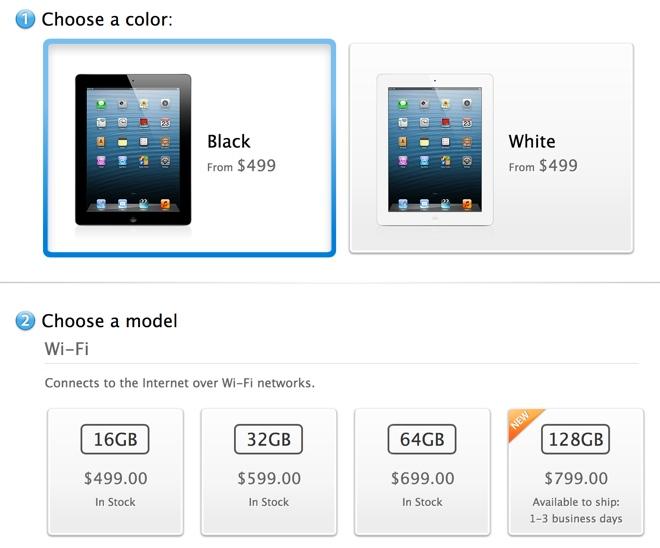 Apple on Tuesday updated its online store to reflect availability of the new high-capacity 128-gigabyte iPad with Retina display.
The new high-end iPad model costs $799 for the Wi-Fi-only model, or $929 with cellular connectivity. It's available in both black and white, just like every other capacity, and is advertised to ship in one to three business days.
Apple first announced the product, which doubles the previous maximum capacity of 64 gigabytes, a week ago. Prior to the announcement, evidence of a larger capacity iOS device had just been discovered in the newly released iOS 6.1 software update.
In announcing the 128-gigabyte iPad, Apple suggested the expanded storage would be particularly appealing to enterprise users, educators, and artists. The company also noted that virtually all Fortune 500 and more than 85 percent of the Global 500 are currently deploying or testing the iPad.
Aside from the increased storage capacity, the 128-gigabyte iPad with Retina display is unchanged from the previous fourth-generation models. It includes the Apple-designed A6X processor, a 9.7-inch Retina display, and a forward facing FaceTime HD camera.