Apple wins exhaustive fourth-generation iPod shuffle patent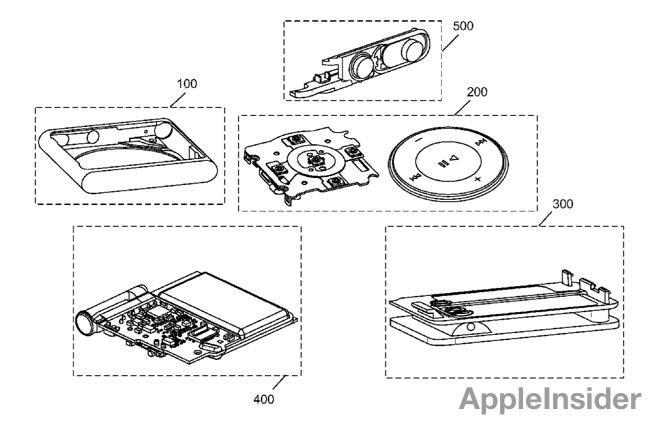 AppleInsider may earn an affiliate commission on purchases made through links on our site.
Apple on Tuesday was awarded an extremely in-depth patent for the component design and manufacture of the smallest iPod in the company's current lineup, the iPod shuffle.
First filed for on Aug. 27, 2010, less than a week before the fourth-generation iPod shuffle debuted, Apple's U.S. Patent No. 8,368,643 for a "Very small form factor consumer electronic product" thoroughly describes the parts and processes that go into making the ultra-portable music player.
As published by the U.S. Patent and Trademark Office, the patent calls for a media player made out of a single-piece housing with a cavity and other features for deploying electronic components and user interface parts such as the iPod's large clip. Included in the patent are two co-pending applications regarding protection from moisture and electrostatic discharge.
Due to the iPod shuffle's incredibly small size, the patent is meticulous in its explanation of parts fit and finish, including aesthetic considerations like button alignment.
From the patent's summary:
Assembling the various components into the housing having such a small size can require complex, expensive, and time consuming assembly techniques. Moreover, aesthetic considerations can severely restrict the placement, size, and number of components used in the manufacture of the small form factor consumer electronic product.
No space is wasted in the shuffle's design. The electrically conductive aluminum housing provides a chassis, or "exoskeleton," for the clickable scroll wheel, the main logic board, headphone jack and clip.
A major consideration in building a small-sized portable device is moisture resistance, especially when the product has multiple ports and openings into which electronics are placed. Apple places a number of moisture and contaminant "inhibitors" throughout the device. Materials used range from silicone rubber to plastic, depending on the area of deployment, with the patent covering how each can be formed to make the device as resilient and user-friendly as possible.
Other particulars include the torsion spring-actuated clip assembly, switches and buttons, click wheel, audio components and a multitude of fasteners.
With the fourth-gen shuffle, Apple concentrated the iPod down to its most minimal form: a body, logic board, flash memory and click wheel user interface.
While still a popular line of products, Apple iPod lineup is no longer the cash cow it once was, being replaced in large part by smartphones like the iPhone. As reported in the company's quarterly conference call for the first fiscal quarter of 2013, iPod sales steadily declined to 12.7 million units over the three months ending in December. That figure is down 18 percent from the same time in 2011.
The patent credits Teodor Dabov, Kyle Yeates and Anthony Montevirgen as its inventors.