Apple's solar cell multitouch panels may harvest energy for future iPhones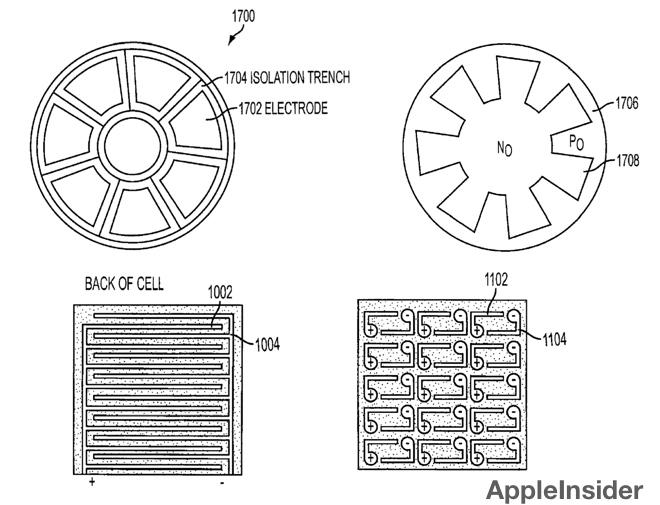 The U.S. Patent and Trademark Office on Tuesday granted Apple a patent for an invention that integrates a touch sensor array with a solar panel, allowing for portable device to be both power-efficient and compact.
Apple's newly-granted U.S. Patent No. 8,368,654 for an "Integrated touch sensor and solar assembly" points directly to the system's use in portable electronic devices like a media player or phone. The technology is arguably most useful in these types of products as consumer demand for larger, power-hungry screens is pushing the limit of battery design.
Instead of merely layering solar cells within the touchscreen's array, the '654 patent calls for true integration, meaning the solar panel can operate as both an energy harvesting component as well as an optical sensor. To accomplish this feat, the touch panel's electrodes are used for both capacitive sensing and collecting solar energy. Further, because the proposed component includes electrodes that offer the same "coverage" as a typical solar panel, it provides "far more quadrants or pixels" to be used as touch sensors.
Unlike capacitive touch panels, such as those used in Apple's iPhone, the hybrid system's solar panels can be used to simultaneously provide optical-based sensing while capturing and converting energy.
The patent offers a number of examples to illustrate the benefits of having a dual-mode touch panel. In one case, when an approaching object such a finger is detected, the panel may switch to a "capacitive sensing mode" for precise input, increasing the number of capacitive cycles within a given time period. In other situations, the panel may cycle between "solar power/optical sensing mode" and "capacitive sensing mode" depending on whether an object is near the screen. If no object is detected, the number of capacitive cycles is reduced, giving the electrodes more time to facilitate energy production from the solar cells.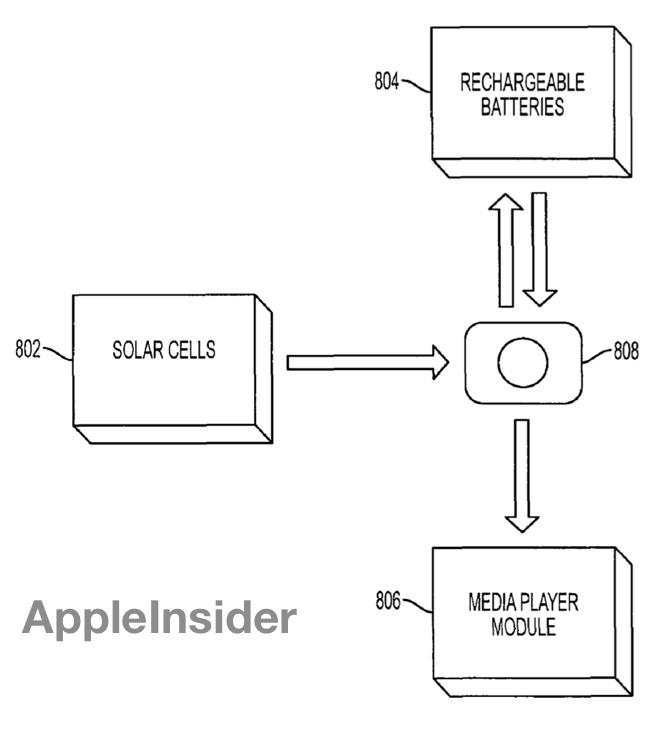 Behind the scenes, a so-called "traffic control" unit, which can be either a hardware or software solution, decides whether generated energy should be allocated to running the device or sent to the battery for storage.
Physically, the capacitive touch sensors and solar cells are separated using isolation trenches, though both are routed through multiplexer circuitry. The MUX is fed either touch signals or power from the solar cells and delivers them to the CPU or power management unit, respectively.
While the technology may not be incorporated into the next iPhone Apple releases, the patent could help in cutting valuable space from the handset. With the most recent iPhone 5, Apple used in-cell touch panel technology to bring the phone's depth down to 7.6 millimeters.
Apple first filed for the '654 patent in September 2008 and credits Michael Nathaniel Rosenblatt, Benjamin Lyon, John Benjamin Filson, Steve Porter Hotelling, Gordon Cameron and Cameron Frazier as its inventors.