ProCutX brings Final Cut Pro X controls to Apple's iPad

AppleInsider is supported by its audience and may earn commission as an Amazon Associate and affiliate partner on qualifying purchases. These affiliate partnerships do not influence our editorial content.
Video professionals looking to bridge the gap between their Mac and iPad can turn to ProCutX, a new iPad app that allows editors to control Apple's Mac-based Final Cut Pro X.
The new application, designed by Pixel Film Studios and created by LightWORK, debuted on the iPad App Store on this week for $24.99. The software aims to enhance and streamline the Final Cut Pro X editing experience, translating it to a touch-friendly environment on the iPad.
ProCutX is designed to break free from menus and tabs in an effort to streamline editors' tasks. Using the iPad application, users have control over all of Final Cut Pro X's editing tools.
A dial interface in the center of the iPad application offers timeline scrubbing, allowing users to move the playhead frame by frame by dragging their finger around the wheel. And the Toolbox feature lets users select, cut and trim footage without needing to use their Mac's mouse, trackpad or keyboard.
ProCutX also includes a Color Board to adjust exposure, saturation and color, while users can also autocorrect white balance, color and noise removal. The software also offers multichannel audio editing, compound clip controls, and streamlined importing and sharing.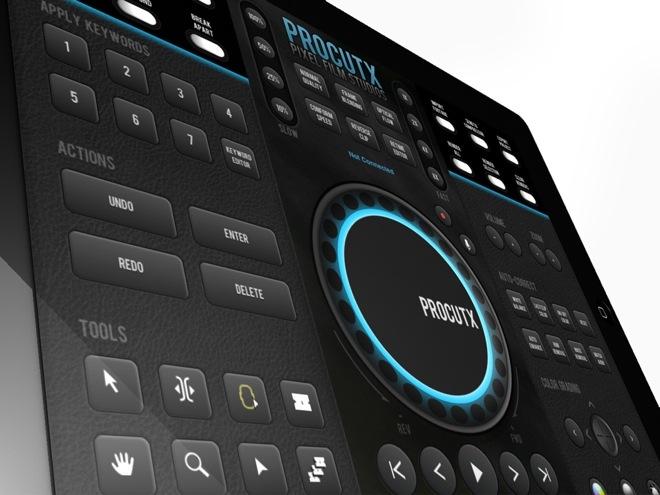 ProCutX is the first iOS application from Pixel Film Studios, a California-based developer of visual effects tools for the post-production and broadcast community that also sells plugins, transitions and effects for Apple's Final Cut Pro X. For example, Profilm, one of its available plugins, gives footage a theatrical 35-millimeter film look.
Pixel Film Studios informed AppleInsider that the company plans to add new features to ProCutX in the near future, including Siri-like voice command capabilities and support for multiple iPad integration, allowing users to separate tasks such as color grading, audio controls and effect controls.
ProCutX requires Final Cut Pro X version 10.0.7 and an iPad running iOS 5.1 or later. Version 1.0 is an 8.6-megabyte download from the App Store.