Apple's iOS 6.1 reportedly causing 3G and battery issues for some iPhone users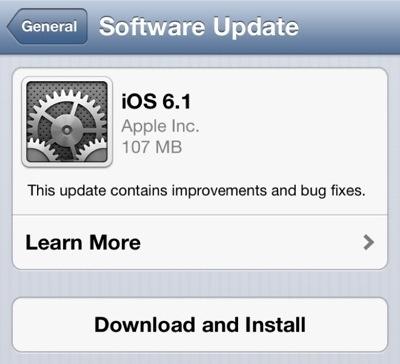 A little over two weeks after Apple released iOS 6.1, a number of iPhone users are reporting battery drain and overheating issues possibly related to the newest update, while Vodafone UK sent out a warning telling iPhone 4S owners not to upgrade to the latest OS version as it has been found to cause 3G performance.
While the extent of the 3G problems Vodafone reported is unknown, multiple Apple Support Community threads exist regarding battery drain and overheating issues, which appear to be affecting a number of iPhone models.
The Support Community forum battery drain and overheating problems after updating to iOS 6.1. Reports are conflicting, however, as one iPhone 5 owner saw a drain of 35 percent overnight, while an iPhone 3GS user said Apple's latest update actually boosted battery life.
In Vodafone's warning, the British carrier noted that iOS 6.1 is causing intermittent problems with iPhone 4S models, causing the handset to experience 3G-related issues with making calls, sending texts and accessing the company's data network. The telecom said Apple is working on a fix, but failed to elaborate further on the matter.
From Vodafone's release regarding iOS 6.1:
We're aware of an issue caused by Apple iPhone 4s handsets that have been upgraded to iOS 6.1 which impacts performance on 3G.
Some customers may occasionally experience difficulty in connecting to the network to make or receive calls or texts or to connect to the Internet. Apple is working on a solution to their software issue. These connection problems are intermittent.
While Apple's investigations continue, we would recommend that anyone who has not yet installed iOS 6.1 on their iPhone 4s should delay doing so until Apple has confirmed that their problem has been fixed.Apple released iOS 6.1 on Jan. 28, bringing a host of bug fixes and feature enhancements like added LTE support to its mobile operating system.