Apple and Samsung identify all infringing devices in Galaxy Nexus patent case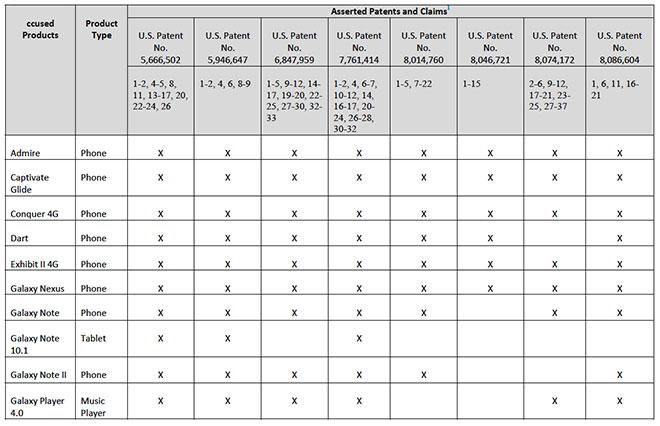 AppleInsider may earn an affiliate commission on purchases made through links on our site.
In a pair of filings with the U.S. District Court for the Northern District of California on Friday, Apple and Samsung detailed the scope of their respective assertions for an upcoming patent suit scheduled to start proceedings in 2014.
The two documents identify in list and table form the alleged infringed patents and respective devices associated with each violation each party is claiming, including the two companies' flagship handsets, Apple's iPhone 5 and Samsung's Galaxy S III. Both compaies have been adding products to what is known as the Galaxy Nexus dispute since Apple first filed the formal complaint in February 2012.
Apple is asserting a total of eight utility patent infringement claims against 23 Samsung products. As noted in the filing, only four of the Korean company's devices were part of the Apple v. Samsung jury trial that resulted in a $1.05 billion verdict against Samsung.
As for Samsung, the company is asserting Apple infringed upon three of its patents with certain iPhone, iPad, iPod and Mac models. The filing also mentions five other patents that are not currently being considered by the court.
Presiding Judge Lucy Koh said on Thursday that she was considering putting a hold on the case until an appeals court handed down a ruling pertaining to the first suit. The appeal was lodged by Apple in connection with Judge Koh's denial to ban certain Samsung handsets following the Apple v. Samsung trial.
"I just don't know if we really need two cases on this," Judge Koh said, suggesting that the two companies' ongoing litigation elsewhere in the U.S. and the world could cover both California complaints.
For its part, Apple noted that none of the patents in the Galaxy Nexus case overlap with the jury trial, an important point of consideration if the upcoming suit is to move forward. Samsung, however, disagreed and said there was enough overlap to substantiate a suspension of the second suit.
Judge Koh has given Apple and Samsung until March 7 to submit official statements regarding the matter before she decides whether to postpone the case. Currently, the Galaxy Nexus dispute is slated to start proceedings in March 2014.