First look: Apple's new Campus 2 construction site

Apple is gearing up to begin construction on its largest project ever later this year: Apple Campus 2. Here's a detailed look at the Cupertino, California site where the company plans to build its iconic new "spaceship" headquarters.
Apple's existing world headquarters
Apple's current headquarters are located near interstate 280 and De Anza Boulevard, an address depicted in the company's Maps icon for iOS. The existing six-building campus is ringed by a road the company named "Infinite Loop," which itself is surrounded by a series of parking lots.
Apple's new Campus 2 project is located about a mile east, visible at the top of the map in this Flyover view, just past the next freeway interchange. Once completed, Apple will migrate about 12,000 workers to the new site, but will also retain its existing Infinite Loop headquarters and other offices. Some employees have already been briefed as to whether they'll be making the move or not.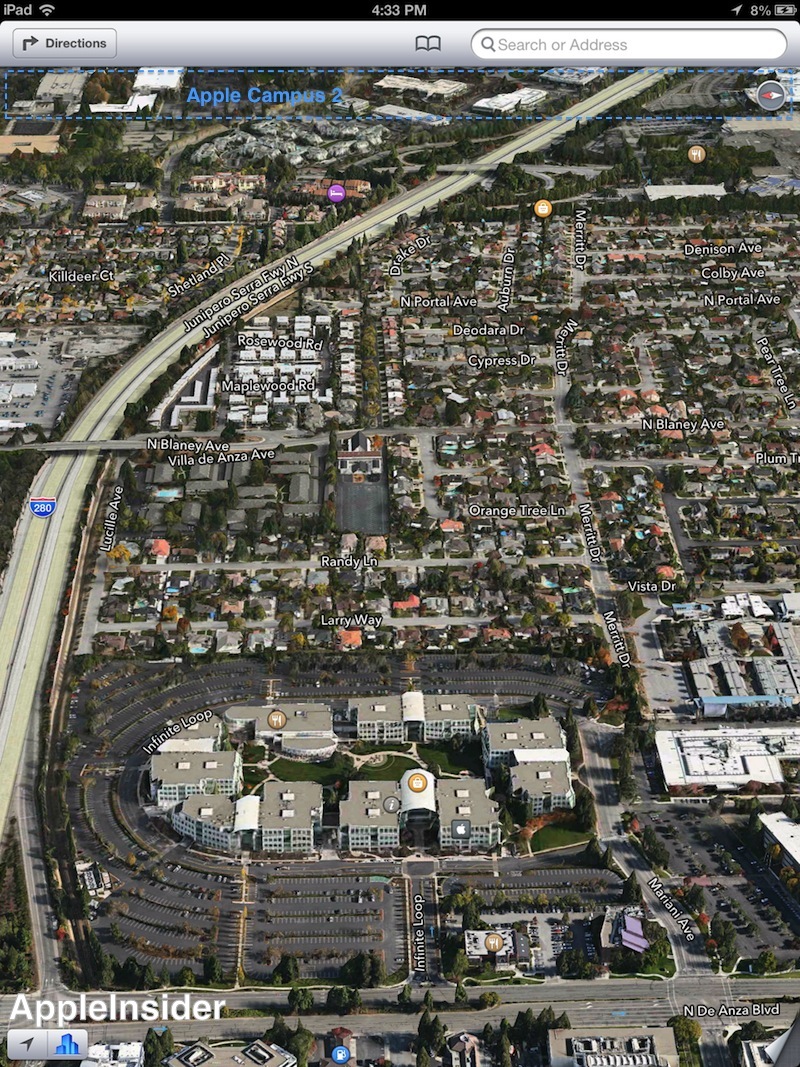 Apple's current 850,000 square foot main office complex was completed in 1993, allowing the company to centralize its operations from a variety of rented office space locations formerly spread around Cupertino and surrounding areas. Apple also operates a series of other offices to the south and on the west side of de Anza along Valley Green and Bandley Drive, in addition to a number of other locations scattered around the area.
Over the past decade, Apple has been aggressively expanding. Back in 2005, a report by Silicon Valley Business Journal noted that the company had "gobbled up" a series of offices in the area, then amounting to 2 million square feet of space.
The entire city, the report noted at the time, had less than 10 million square feet of commercial space in total, about half of which was offices and the rest being research and development buildings. With occupancy rates at 8-13 percent, Apple was having trouble finding enough space even then, and was seeking out new space covertly in order to avoid being charged more by landlords aware of Apple's predicament.
"Apple is very quietly going around and taking 20,000 feet here and 30,000 feet there and really doing it quite quietly," the report cited real estate broker Jim Beeger as saying. "Ironically, a lot of these buildings Apple moved out of in the 1990s."
Apple's appetite for expansion eyes a second campus
We've rented every scrap of building we could find in CupertinoIn 2006, Steve Jobs addressed the Cupertino city council, saying that Apple's employees were now spread around "thirty other buildings now and they keep getting further and further away from the campus." He added, "We've rented every scrap of building we could find in Cupertino."
Jobs revealed at the time that Apple had quietly bought up nine separate nearby parcels of land to make up a new 50 acre campus, and intended to build a new complex capable of housing 3,000 to 3,500 employees.
"We'll probably get larger still," he noted.
Four years later, Apple's desperate appetite office space had grown even greater. In 2010, the company lucked out when HP decided to sell its large Pruneridge Campus, across the street from the land Apple already owned. Apple's acquisition of the land resulted in a combined 148 acre plot capable of accommodating a huge new campus.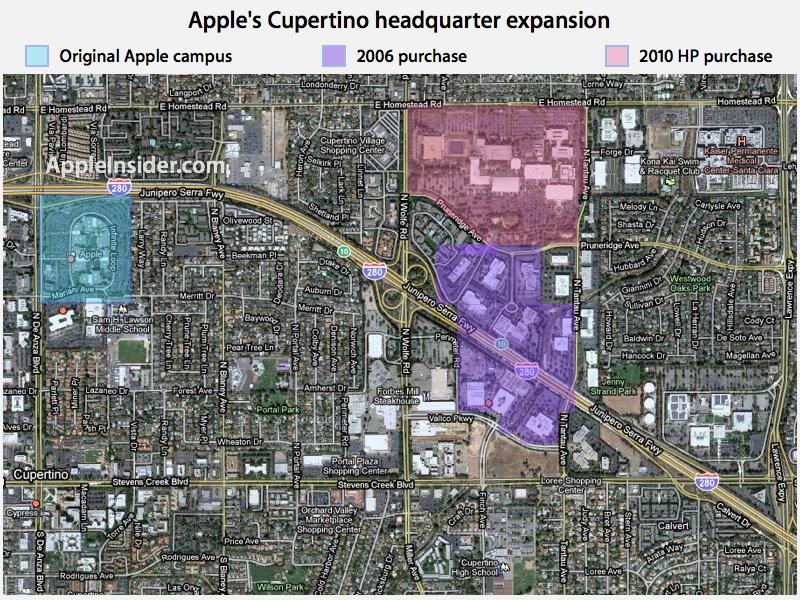 Just over two years ago in late 2010, Apple's head of Public Relations Steve Dowling said of the company's expansion plans, "we now occupy 57 buildings in Cupertino and our campus is bursting at the seams. These offices will give us more space for our employees as we continue to grow."
Current use of Campus 2 land
Apple's land slated for construction currently has a series of existing buildings on it, some of which Apple actively uses, including several large office buildings on Ridgeview Court (shown in the top two photos below) and Vallco Parkway (bottom two photos below), both of which are on the part of the land the company has owned since 2006.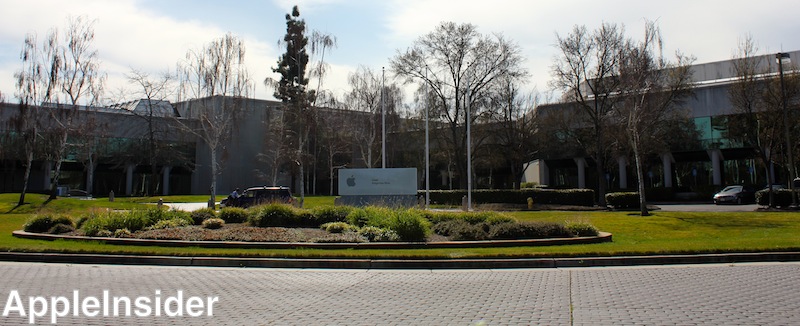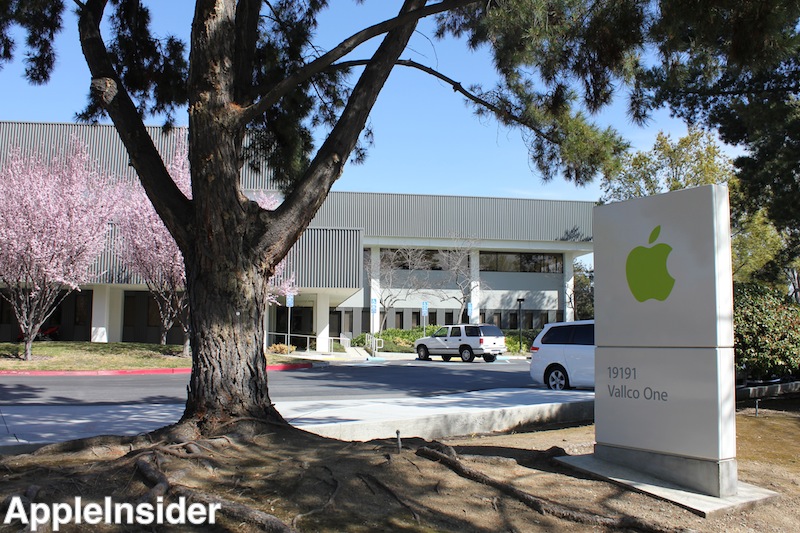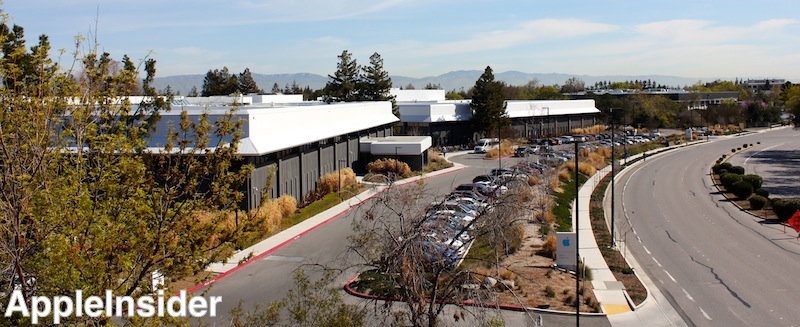 Other buildings on the Campus 2 site appear to be abandoned, with unkempt lots surrounded by chain link fences. Some areas have security guards limiting access. While Apple likely makes some use of the HP buildings it acquired in 2010 (shown in the photos below), most of these properties do not appear to be in any active use.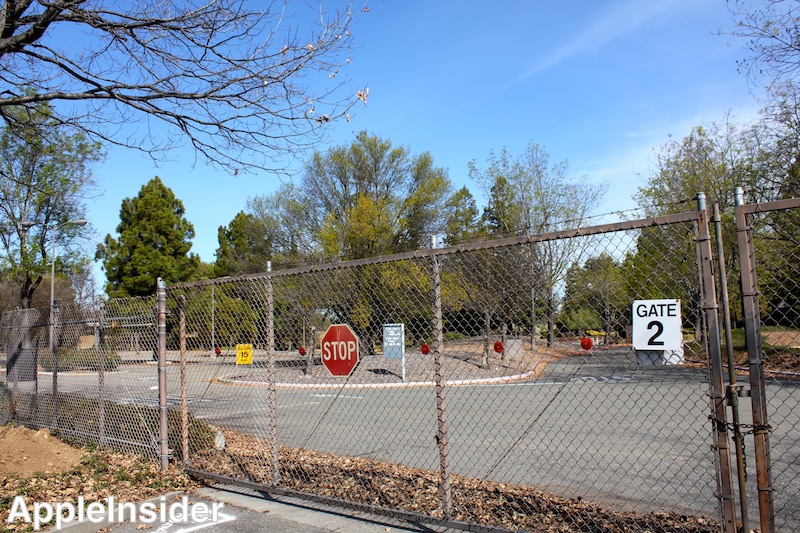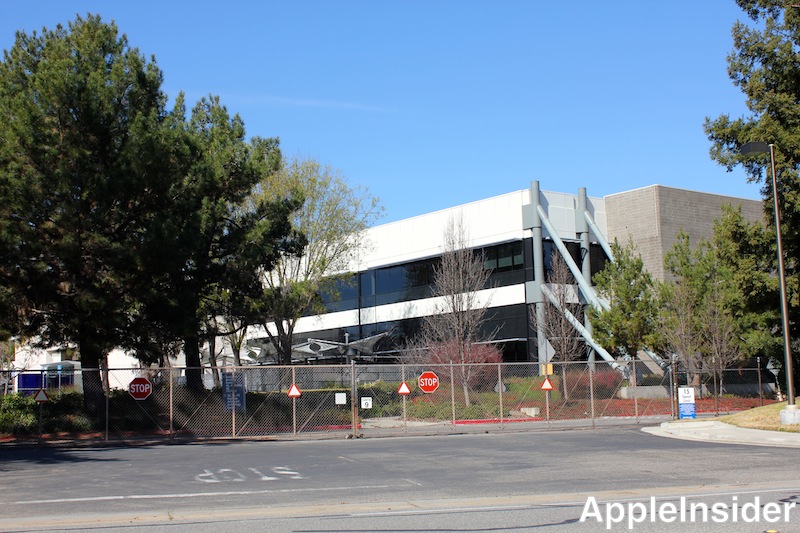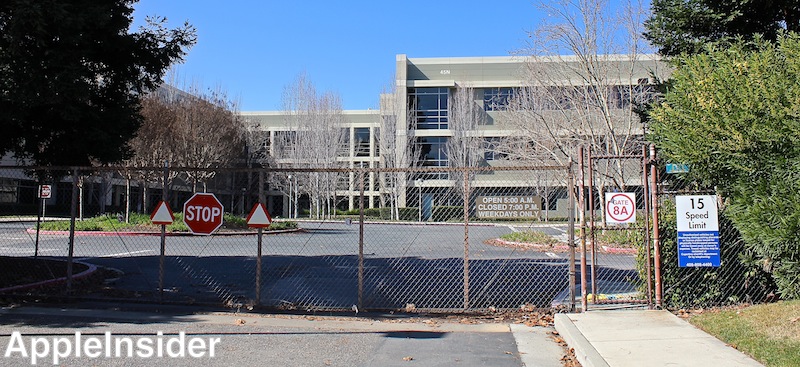 Interestingly, a variety of the existing HP buildings have circular features that appear to serve as harbingers of the company's new plans for its iconic "spaceship building," as shown in Apple's own Maps Flyover (the company recently extended Flyover models through Cupertino, including the Campus 2 site despite its short term plans to demolish the buildings on it).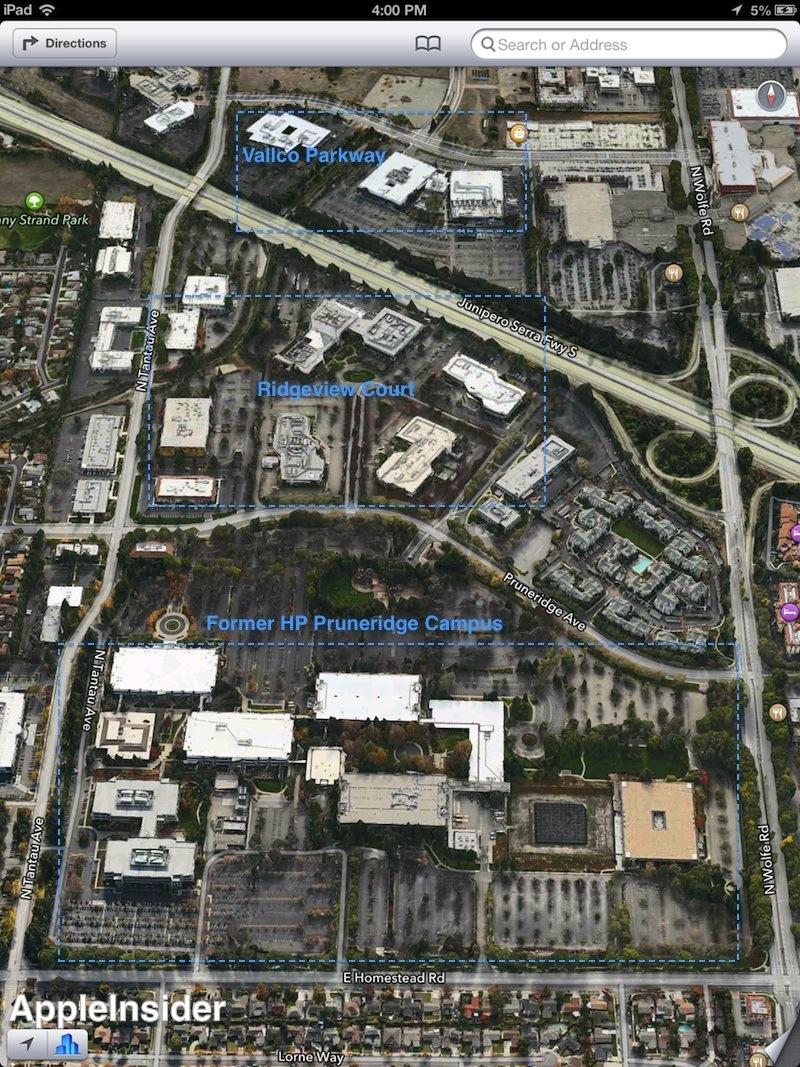 Apple's New Campus 2
Jobs first outlined plans for the new the Campus 2 project in a presentation to the Cupertino city council in June 2011. The project was designed by noted architect Norman Foster.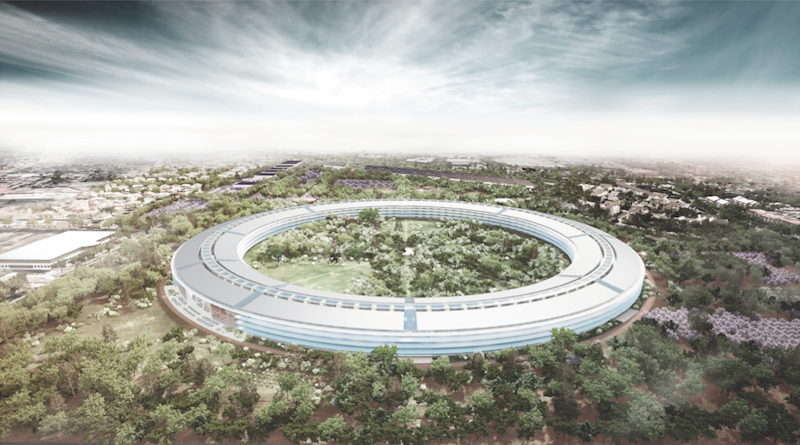 Earlier this week, Apple's current chief executive Tim Cook responded to question related to the status of the project at the company's annual shareholder meeting. Cook noted that the Campus 2 site currently has nearly 2.7 million square feet of office space spread around it, and that 80 percent of the land is covered by parking lots.
The company's plan will bulldoze the existing buildings and construct a primary four story circular building with 2.8 million square feet, roughly three times the size of its current main campus on Infinite Loop. After the project is finished, paved parking will cover only 20 percent of the land, thanks to underground parking and a separate parking structure.
In addition, Cook noted that the company has plans to expand its existing shuttle bus service to enable around 30 percent of the roughly 12,000 employees working at the new site to get to work without driving at all. This reduction in required parking will contribute toward Apple's plans to replace the existing vast areas of asphalt with trees and green open space, including orchards of apricots that pay homage to the original agricultural use of land.
Apple Campus 2, with more space for everything
While Apple originally hoped to break ground last year, planning delays have held up construction. However, Cook announced this week that Apple hopes to begin construction this year, and said that the first Apple employees will likely be moving into the new Campus 2 by 2016.



Cook also told shareholders that the new project would better accommodate large events. Apple's existing Infinite Loop complex holds a Town Hall theater and executive briefing room, but space is limited. For several years, Apple has pushed overflow crowds of shareholders and media observers into a separate room. This year, the company filed even larger crowds through its separate cafe area, which was partially converted into a third overflow area, complete with large screens for viewing the proceedings occurring in the main theater.
Once the new campus is complete, Apple will be able to host all of its visitors in a main large new theater. Cook specifically said it would comfortably host shareholder meetings in the future, but it's also likely Apple will begin hosting other new events there, such the iPod and iPad unveilings it has historically held in San Francisco at the Yerba Buena Center for the Arts.
The land around Apple Campus 2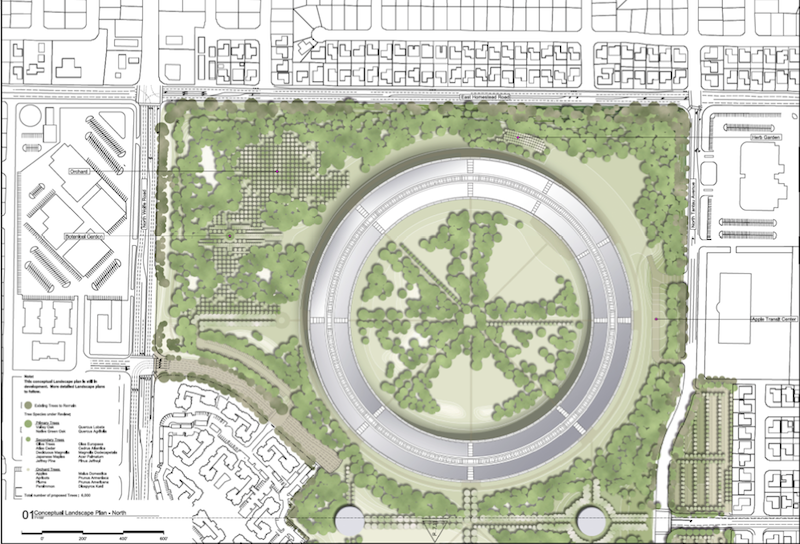 Apple's massive new project is bordered by residential houses to the north (which currently sit opposite the existing, former HP office park). To the east, the project boundaries are ringed with other offices (including some used by Apple), as well as a Kaiser Permanente medical facility. To the west is the tree lined Wolfe Road (below) with a strip mall, a couple of nicer motels and an apartment complex (which Apple unsuccessfully tried to acquire) at the Wolfe 280 freeway interchange.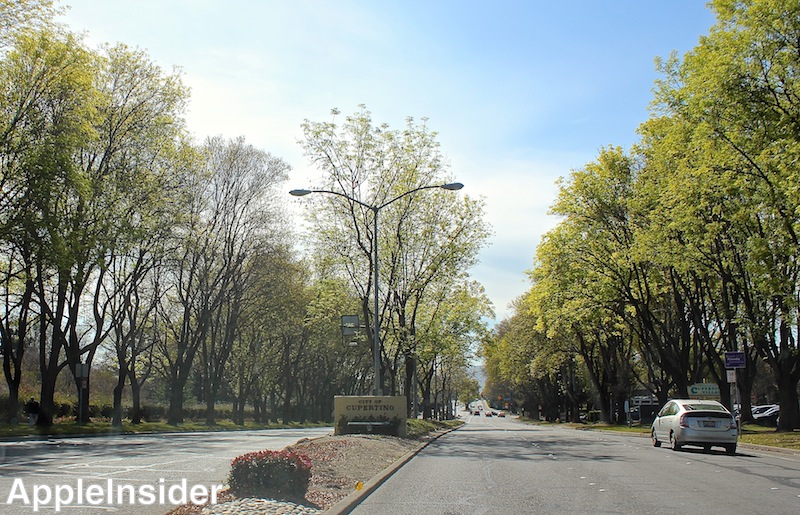 Apple's current plans for Campus 2 end at the freeway, rather than including the land the company owns and uses to the south, which was part of the original 2006 plan.
South of this Vallco Parkway region, which Apple already has in active use, there is a swath of land being developed as moderate density condominium housing over retail. The southern portion of Apple's land was initially zoned for similar residential use, something that held back the company from getting started with its initial plans in 2006.
This new housing, now under construction on Vallco Parkway (below), sits adjacent to the dowdy, virtually deserted 1970's Vallco Mall complex (far right end of image), the ground floor of which is currently closed and under renovation. The open upper level of the mall, which stretches across Wolfe Road via a skybridge, houses a theater, bowling alley and a few other shops anchored by a sad looking JC Penny, Macy's and Sears.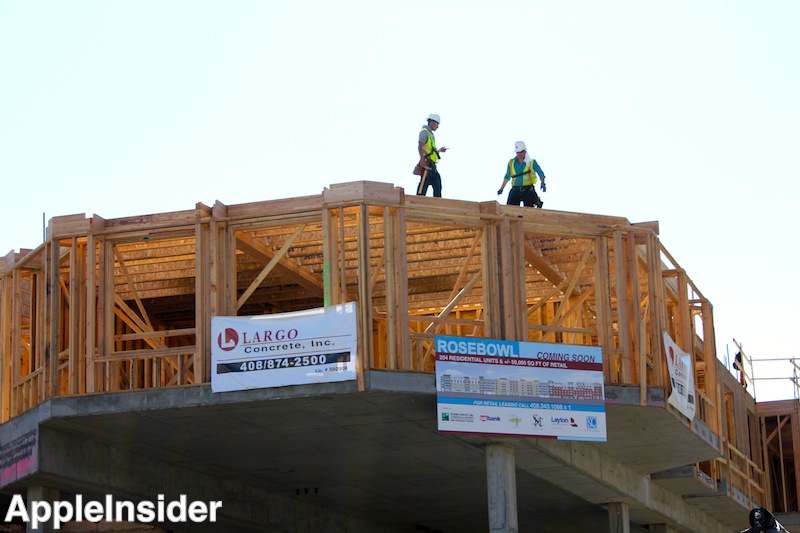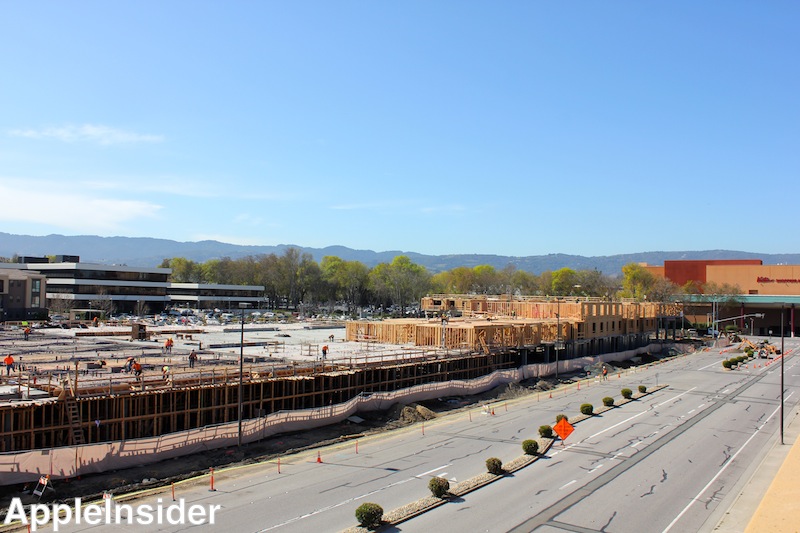 No place like home
Apple has been a fixture of Cupertino ever since founders Jobs and Steve Wozniak located the new company there in 1977, after about a year of working out of the garage of Jobs' parents, in nearby Los Altos.
Jobs went to high school in Cupertino and expressed an affinity for the town in 2006, when he first addressed Cupertino's City Council regarding the company's initial land purchase.
Jobs told council members he had looked at cheaper land in other places when considering where to locate Apple's second campus. "But after looking at a lot of things, we found something in Cupertino that was a possibility," Jobs said. "It was more expensive, a lot more expensive than we could get elsewhere, but it was something where we could stay in the area that we like the best."