Apple to diversify manufacturers for low-cost and legacy iPhones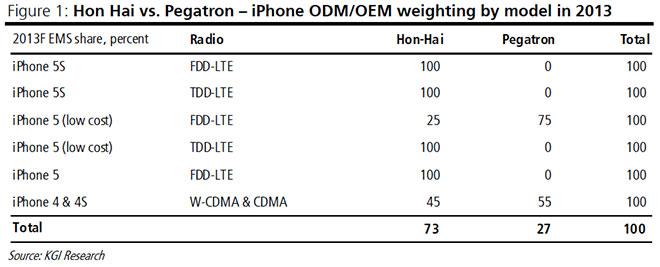 A fresh report from KGI analyst Ming-Chi Kuo on Tuesday predicts Apple will tap manufacturing partner Pegatron to build a majority of orders for the rumored low-cost FDD-based iPhone, as well as more than half of all legacy iPhone 4 and iPhone 4S orders, in a move to diversify suppliers.
While Apple has long used Hon-Hai, better known as Foxconn, for the bulk of its manufacturing needs, Kuo believes that Pegatron could become a major contributor to the Cupertino company's important iPhone business. For 2013, the analyst estimates Pegatron will be responsible for 75 percent of low-cost iPhone orders and 55 percent of iPhone 4 and 4S production.
Apple will continue to rely on Foxconn for most of its iPhone needs, including all production for the FDD-LTE and TDD-LTE iPhone 5S, low-cost TDD-LTE iPhone and continuing current generation iPhone 5. The firm will also take a 25 percent share of orders for the low-cost FDD-LTE iPhone and a 45 percent stake in W-CDMA and CDMA iPhone 4 and 4S models.
Kuo sees Pegatron benefitting more from Apple's 2013 iPhone plans as its ODM/OEM weighting will get a 9 percent boost to 27 percent this year, up from 18 percent in 2012. He goes on to explain that iPhones using FDD technology will be released earlier that TDD handsets due to licensing and testing restraints. All said, Pegatron's iPhone ODM/OEM weighting could exceed 30 percent in 2014.
The Shanghai company has reportedly been moving manufacture of other brands' products off assembly lines to accommodate Apple's massive iPhone orders. The plants are also said to become dedicated to building Apple products in the future.
The analyst reiterated his prediction of a second half launch for both the iPhone 5S and low-cost iPhone, estimating shipments to reach 35.8 million and 53.4 million units by year's end, respectively. Including ongoing sales of the current iPhone 5, iPhone 4S and iPhone 4, he forecasts Apple handset shipments to soar 83 percent to 110 million units compared to the first half of 2013.