Samsung's Galaxy S4 distracts attention away from Android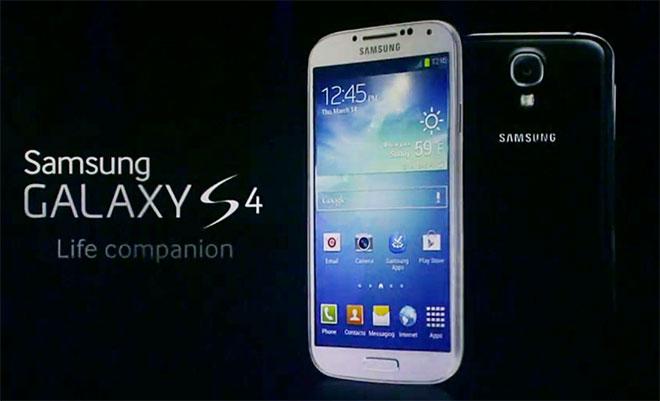 Samsung's Galaxy S 4 launch appeared poised to leverage Android to further distract the public's attention from Apple's iPhone. Instead, the company appears to have created its own apps and services to distract away from Android.
Samsung's latest product launch aspired to beat Apple at its own game of theatrical showmanship, sparing no expense to deliver a media blitz following the pattern of Microsoft, HP and, most recently, Sony.
But while it focused attention on being "an Apple," what Samsung didn't say is perhaps the most notable aspect of the event: Samsung made virtually no mention of the Galaxy S 4 being part of Google's Android platform.
It's Android season
Ever since Apple announced plans to stop participating in the January Macworld Expo in 2008, the first part of the year through the spring quarter has been the best time to shine for Apple's competitors in the smartphone industry. Samsung's Galaxy S 4 launch event appears timed to coincide with Apple's historically quiet season for iPhone.
If it seems like all the "Apple is doomed!" rhetoric just randomly showed up out of the blue from 1997, it's only because the world has forgotten that Apple's iPhone shipments have always flattened out in the spring quarter as anticipation of the next model begins to build.
This occured so intensely in 2009 that there were actually predictions that Apple would crash and burn back then, even though in retrospect the company has done nothing but hit new records in phone sales ever since.
Google's Nexus One and Palm's webOS both used this nadir of iPhone news in early 2009 to show off a new OS and faster chips. Along with various other Android licensees, these products enjoyed nearly six months of exclusive attention before the launch of the iPhone 3GS that summer.
In 2010, Verizon Wireless launched a "Droid" branded initiative with Motorola to focus attention away from its lack of the iPhone, while Samsung launched its Galaxy brand to closely mimic Apple's iPhone 3GS and its marketing, packaging, accessories and even icons. Android then got six months of virtually exclusive attention until the iPhone 4 launched.
In 2011, a variety of Android licensees launched multicore chips and support for LTE. Google used the "Apple quiet period" to launch Android 3.0 Honeycomb Tablets even as BlackBerry launched its own table failure with the PlayBook.
Early last year, Samsung launched its Galaxy Note phablet, followed by the Galaxy S3. HTC launched two One phones, LG the Optimus 4X HD and G, and Sony the Xperia S and T, along with hundreds of other lessor known Android models. So many companies are clamoring to be heard during the Apple quiet period that, ironically, it's rare for any to really make an impression.
Samsung appears to be doing the best job at standing out among the Android crowd, thanks to a huge advertising budget. But it now appears Samsung wants to stand on its own, independent from Google, having launched the new Galaxy S 4 without making any significant mention of the fact that it uses Android.
New software, but it's not "Android"
While some Android licensees, notably Amazon and its Kindle Fire, have drawn attention to their use of Android, Samsung appears to be distancing itself from Google's platform.
Many observers have noted that Samsung's Galaxy brand already has as much name recognition as Android itself. Samsung, unlike most other Android licensees, has also launched two major initiatives to offer an Android alternative of its own, first with Bada, and most recently with Tizen (a partnership with Intel).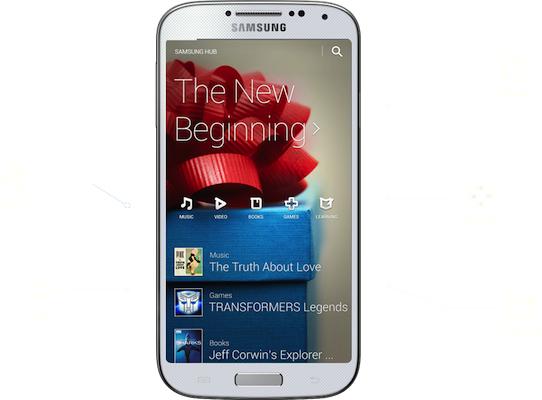 In showing off the new Galaxy S 4, Samsung didn't draw attention to Google's search, mapping or translations services, nor even its ability to download Google Play content. It didn't feature Android apps.
Instead, it featured Samsung's own store (Samsung Hub, pictured above) and exclusive new software, including the previously announced Knox security layer that Samsung has branded as being "SAFE" for the enterprise to adopt, in contrast to Android at large.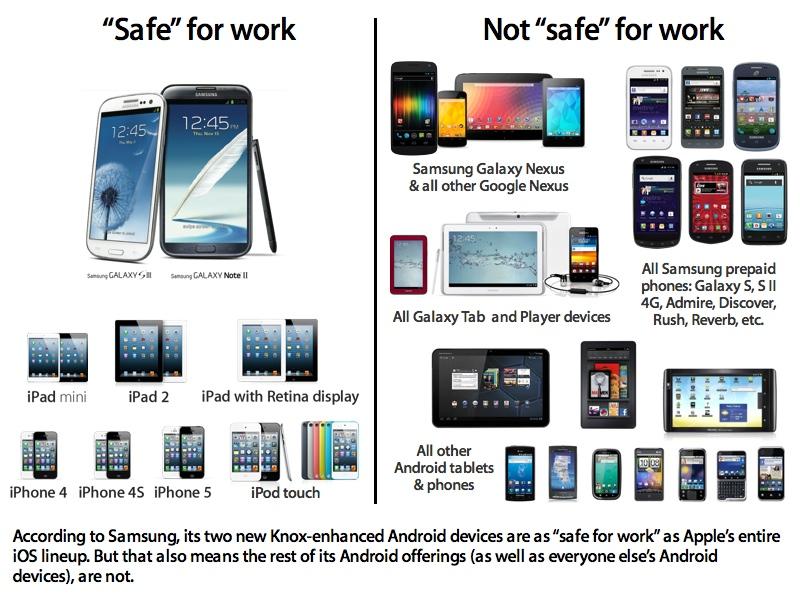 In addition to Knox, Samsung detailed a variety of other software features that differentiate it from most other Android phones. These features seem to be targeting competing products of other Android makers, rather than Apple's iPhone 5. This meshes with comments made by Apple's marketing chief Phil Schiller that noted the company is seeing four times more Android users switch to iPhones than be wooed away.
While the tech media has manufactured a competitive frenzy between Apple and Samsung, it appears that in reality, Samsung recognizes that its lowest hanging fruit are not Apple's.
Samsung's alternatives to Google
Samsung has already layered its Android offerings with "Touch Wiz," a proprietary add-on package that adds features to Android, such as gesture support, a call blocking mode and modifications that make reaching certain settings easier. New features demonstrated for the Galaxy S 4 appear to follow in the same trend.
A multi view mode (first introduced with the Galaxy Note II) allows users to interact with two apps at once (such a viewing a video while sending an email, as shown below). But other new Samsung features appear aimed more at replacing Google than embellishing Android.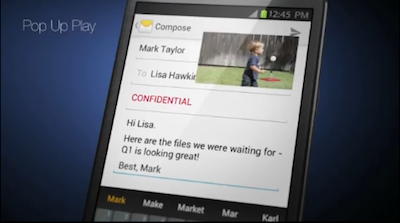 Samsung is definitely working to look like an Apple (particularly in software), but it appears to be doing so more at the expense of Google than Apple. The new "Galaxy S Voice Drive" appears to be Samsung's answer to Siri (and Apple's Eyes Free automotive integration initiative), but it doesn't leverage Google's own services, for example.
Similarly, Samsung's S Translator app lets users convert spoken or written (using optical character recognition) language without Google Translate. And Samsung's Chat On messenger app (depicted below) supports FaceTime-style video calling and screen sharing, as well as viewing picture in picture video from both front and rear camera at once, again without leveraging the company behind Android.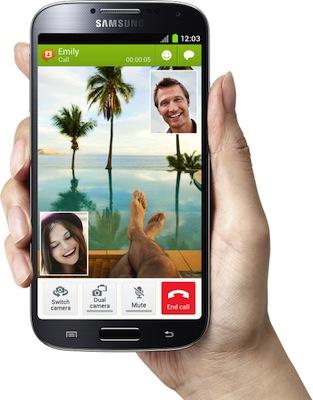 It's also telling that Samsung recently earned some flack in closely duplicating Apple's Passbook feature, but it did so even as it shunned Google's own NFC-based system developed for Android licensees.
Samsung practices Apple magic
Other more whimsical features proprietary to Samsung, such as eye tracking that prevent the screen from dimming when it detects you're looking at it, and which now allows you to pause video or scroll through content by sensing your eyes' focus, are clearly aimed at earning a reputation for delivering an Apple-like level of "magic," although CNET noted that "both features worked better in theory than they did in practice."
Samsung's eye tracking features "worked better in theory than they did in practice."
Related new "Air View" features, intended to allow users to navigate with hovering hand gestures tracked by the camera rather than multitouch, are also unique to Samsung and not part of Android itself. CNET described these as "a little jerky and jumpy" before adding, "but it did work. As with eye tracking, you'll have to wait a half-second to see results."
A preliminary review by Anandtech said the new features "seemed to work intermittently."
Samsung demonstrated a rash of other novel features, including a Dual Shot camera app feature which similarly allows users to capture front and rear photos that can be combined together in a group shot of sorts. Other camera features are included for creating multiple exposures, GIF animations, or photos accompanied by background sound.
However, Samsung seems to feel most comfortable in copying existing features. It demonstrated a built in IR universal remote just like HTC's, and a Group Play feature that enables multiuser play over Bluetooth just like Apple released in iOS 3.0 (although it adds a novel feature that shares song playback between nearby users of the same phone model, something that may grab the attention of litigious record labels).
Without a flourishing ecosystem of its own, Samsung has decided to create wireless peripherals of its own for the Galaxy S 4, particularly oriented around a Nike Fuel band-like "S Band" and other external sensors for tracking weight and heart rate.
This is notable because it enables the company to take its Galaxy S platform to a new OS in the future simply by replacing Android with Tizen, without upsetting (or even requiring any) third party developers and partners.
New hardware
Samsung seems more comfortable in hardware, giving the Galaxy S 4 (reportedly) a new, home grown Exynos 5 chip. Like the existing Galaxy S III, it packs on 2 GB of system RAM, and supports additional storage via a microSD Card slot.
The new phone also uses a very high resolution, 1080p vast 5-inch display (larger and more pixel dense than its 4.8 inch, 720p Galaxy S III predecessor), and industry-leading support for the fast new 802.11ac WiFi.
It also packs 13MP rear and 2MP front facing cameras, both of which out-spec Apple's iPhone 5.
Where Samsung's event differs from Apple
Unlike Apple does at its own launch events, however, Samsung didn't really show what the advantages of this new hardware was. Are the many cores of the newest Samsung chips speeding up apps or web browsing? Nobody can say yet, although Intel has taken Android to task for being poor at supporting multicore architectures.
In contrast, Apple has always demonstrated the advantage of having promoted features such as multiple processing and graphics cores. Apple has even worked to make its technical underpinnings supporting such multicore support understandable with a consumer-friendly brand names.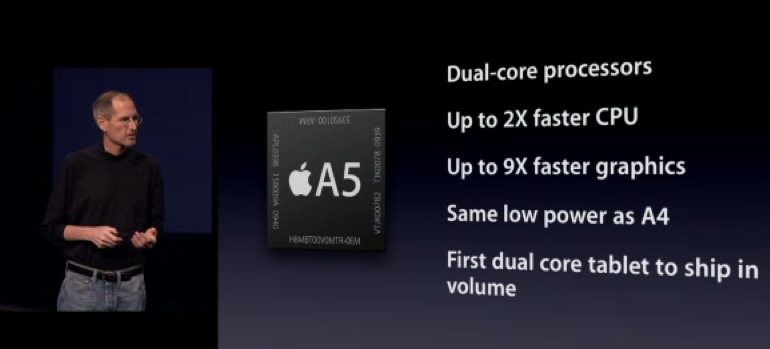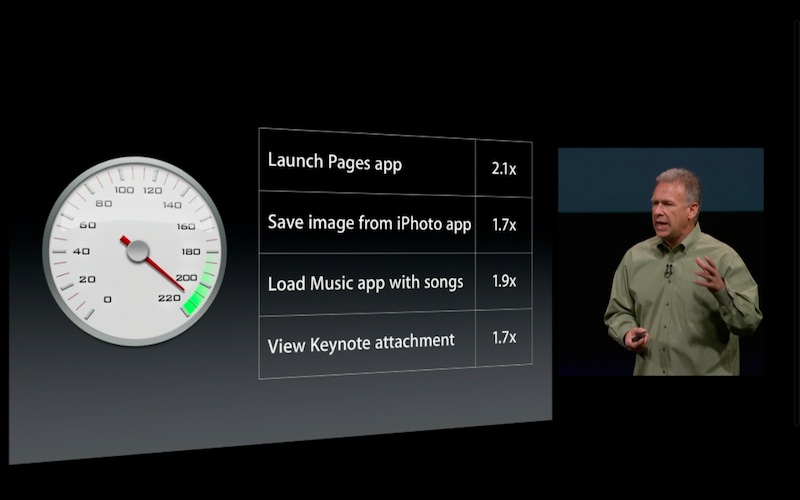 Similarly, there wasn't much quantification of whether the new model addressed Samsung's AMOLED screen issues such as poor color accuracy on the Galaxy S III. Samsung also refused to let hands-on reviewers run any apps to benchmark their performance.
Another very non-Apple aspect of the launch was the avoidance of any mention of the new phone's price tag. For both iPhone and iPad launches, Apple has bragged about offering either much greater performance and features at the same price, or in its ability to deliver new products at "breakthrough" prices (like the original iPad) or competitive prices (for the iPad mini).
Samsung has joined Google, Microsoft and Sony in leaving the prices of their recently announced products a secret, even though a product's price serves as a major decision making factor in consumer electronics sales. For Android 3.0 Honeycomb tablets, sticker shock prices turned out to be lethal to the entire category at their launch in 2011.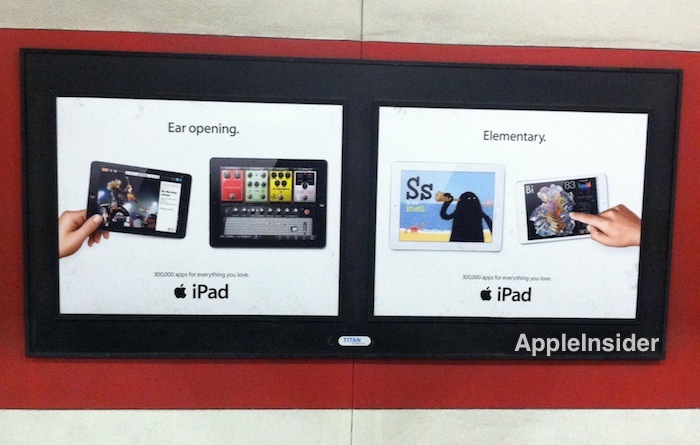 Apple events have even taken competitors to task with side by side performance comparisons, contrasting its products' build size and construction sophistication, and offering unflattering comparisons of rival platforms' lack of apps (alluded to in ads, above) or lack of feature parity in the apps available (below).
Samsung appeared to ignore the entire topic of third party apps, perhaps in part to avoid associating the Galaxy S 4 with its very similar Android competitors at rivals including HTC and LG. As much as Samsung might like to be Apple, it knows that it can't be a long as it uses Android. And based on the company's own statements, it appears that may not continue forever.
So while the tech media prefers to present Samsung as the brand fronting Apple's "archival" Android platform, it actually appears that with the Galaxy S 4, Samsung is now downplaying Android to the point where it can realistically ditch Android in the future, the same way that Apple dropped Power PC as soon as it became practical and possible to do so.