Samsung's Tizen mobile OS could signal new competition for Apple's iOS, Google's Android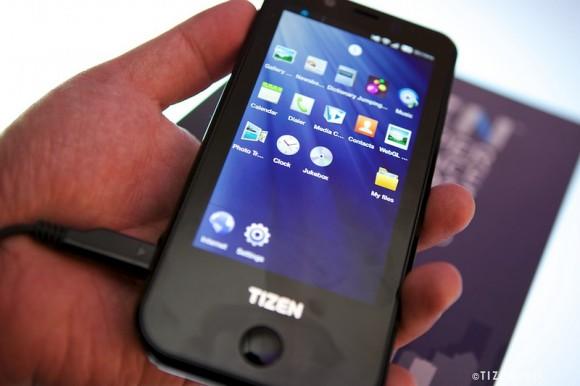 Apple's iOS and Google's Android have so far dominated the latest wave of mobile computing. Now, Apple's chief rival Samsung appears to be prepping a big push behind its own operating system, one that could have the potential to truly shake up the mobile market where others have failed.
Pictured: A developer handset running Samsung and Intel's Tizen OS. (image via SlashGear)
Samsung has already revealed that it will be releasing hardware powered by Tizen, an alternative operating system co-developed by Samsung and Intel. Built largely on the Linux Kernel, the Enlightenment Foundation Libraries, and the WebKit runtime, Tizen is said to be scalable to displays from smartphones to in-car systems to smart appliances, and televisions — all areas where Samsung already maintains a presence or is interested in approaching.
Tizen is a replacement of the MeeGo program Intel initiated with Nokia in early 2010, which was a merging of two efforts to produce an open source mobile platform the two firms had earlier maintained in parallel: Intel's Moblin and Nokia's Maemo.
Samsung previously launched its own internal Bada smartphone platform in 2009, which it began selling in parallel with very similar handset hardware running WP7 or Android.
In January, the South Korean electronics conglomerate confirmed that it will be producing Tizen-based devices, with the first of that line expected to debut sometime later this year. The initial roll-out will be tentative, subject to expansion "depending on market conditions," a Samsung representative told Bloomberg.
That decision is said to have come in response to Google's decision last year to purchase Motorola Mobility, a move that brought Samsung into the uncomfortable position of receiving the software that powers its best-selling devices — indeed, devices that generate 76 percent of its profits — from a company that now looks like a competitor.
Tizen, then, serves as a form of insurance should Google's currently open stance with regard to the Android platform look like it's about to change. And Google has been showing indications that it intends to compete more effectively in the mobile hardware space. Since taking over Motorola, Google has staffed its upper echelons with former Google executives and personnel the company knows it can coordinate with. On the surface, Google continues to say it will treat Motorola as equal to any other Android partner. Reports have emerged, though, that Google is working on a "game-changer" phone within Motorola, an "X Phone" meant to reestablish the faltering device maker and take on not only Apple but Google's top partner Samsung as well.
From the Apple end of the equation, Samsung's move toward Tizen is more a move toward achieving parity. As Apple CEO Tim Cook explained earlier this week, the company's success in the new generation of computing is due to its decades of experience handling all aspects of the machines it produces. "If you look at skills," Cook said, "Apple is in a unique and unrivaled position. Apple has skills in software, in hardware, and in services."
Samsung is aware of this, and — ever content to follow the market leader — is moving to replicate Apple's model as best it can. Company representatives are saying all the right things in the media, noting ever so sagely now that true quality in the mobile experience comes from a melding of software and hardware, a mantra Microsoft CEO Steve Ballmer also converted to in the months before revealing the Surface.
Samsung realizes that much of its future profit growth in the handset sector will have to come from the unique value it builds into its own devices, and that value has to come from from software and services, and Tizen is a means of getting closer to that goal. With Tizen, the company will have a much bigger say in the direction of the platform than it currently does with Android, thanks in large part to its role in co-developing the operating system, as well as timely financial donations to associations guiding the platform.
The company has also expanded other operations in the software segment, opening innovation centers in Silicon Valley and pumping money into small developers. The end goal, of course, is to add value to Samsung's platform, differentiating the company from other Android device manufacturers and improving its already considerable brand image. The degree to which Tizen plays a role in this initiative is uncertain, but Tizen is close enough to Android that Samsung could very likely move its developer farm system to Tizen should it feel the need to do so. There is, in fact, already an application layer that allows Android-developed apps to run on Tizen.
Of course, a Samsung rep's words from January — "depending on market conditions" — figure heavily into where the fledgling operating system goes from here. Together, iOS and Android account for more than nine out of ten smartphone shipments, according to the most recent market research figures. The remaining seven percent or so is divided amongst the assorted lilliputian alternative OSes — the now-defunct Symbian, Windows Phone, BlackBerry — with the field only growing more crowded in the next year. When Tizen debuts later this year, it will do so alongside Firefox OS, ex-Nokia employee-produced Jolla, and Ubuntu for Phones.
If any company has the ability to pull off the launch and popularization of a viable and thriving third mobile operating system, it may very well be Samsung. The company has shown that it is willing to spend and spend and spend some more when it comes to marketing. What's more, it's shown that that spending can actually pay off. Whereas the original Galaxy Note was seen as a fluke hit, its successor has gone on to considerable sales, based in large part on wave after wave of ads. The company's Galaxy S III has seen phenomenal sales topped only by Apple's iPhone, and Samsung is working to build a fan base to rival Apple's storied following.
So the next few months are likely to see Apple continuing to iterate its most-profitable OS, Google attempting to claw back relevance in the OS it created, and Samsung perhaps making a push in its own direction. It should make for an interesting year.