Briefly: First chapter of 'official' Jobs biographic manga goes on sale in Japan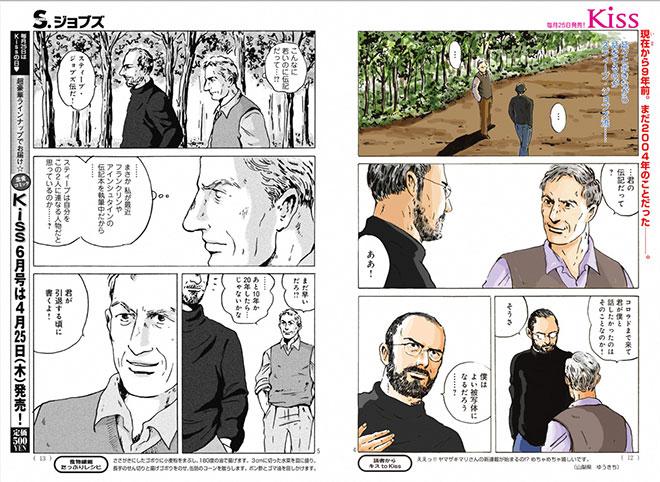 A 14-page preview of the eponymous Steve Jobs manga was posted to the Web on Monday, with the first panels giving a look at how author Mari Yamazaki plans to to tell the tale of the late Apple co-founder.
Japanese manga publishing house Kodansha released the first images of "Steve Jobs," which were subsequently posted to Yahoo Japan's online bookstore, as the title's first chapter hit store shelves today in the April issue of the company's Kiss magazine, reports blog Crunchyroll. Interestingly, Kiss is a monthly Josei manga serial, or a publication targeting the young adult to adult female demographic.
Reportedly recognized as the official adaptation of Walter Isaacson's authorized biography, the comic is being penned by noted manga artist and winner of the Manga Taishō and a Tezuka Osamu Cultural Prize, Mari Yamazaki.
Told from Isaacson's point of view, "Steve Jobs" starts in 2004 with Jobs asking the biographer to write his life story. Isaacson, who previously wrote the biographies of Albert Einstein and Benjamin Franklin, waits to start work in earnest until Jobs' wife Laurene Powell-Jobs calls to break news that the tech guru is in the late stages of pancreatic cancer.
The remaining panels show Isaacson describing his first impressions of Jobs, an early interview session, and background that sets the stage for the manga's coming installations.
"Steve Jobs" will continue in Kiss next month.