Google search reportedly 'de-ranking' direct iTunes app store links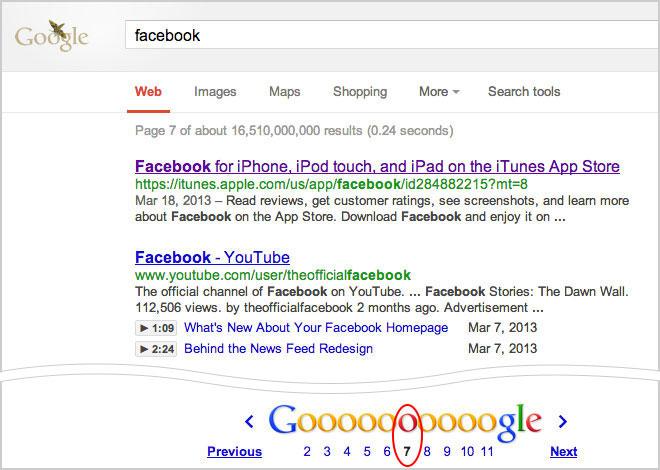 Reports on Tuesday point to a possible "de-ranking" of direct iTunes App Store links in Google's search results, with some titles not showing up for six or more pages unless the word "iTunes" is entered in the text box.
First spotted by TechCrunch, the purportedly recent change in operation seems to affect apps differently and is not a wholesale downgrading of URLs leading to iTunes. A number of variables, including app popularity and whether a user is logged in with their Google account still factor into the search engine's results, though on the whole, links to Apple's App Store appear to be buried below less relevant results.
AppleInsider was able to confirm that signing into Google did cause an app link's location to change slightly, even if the app was a huge title like Facebook. In that example, a search for the term "Facebook" was executed when not logged in, resulting in a first-page hit for the Android store link to the app. The iTunes link showed up on page 7 of the query. Performing the same search after logging in, Facebook for iOS showed up on page 6, while the Android version was still in the top-5 on page one.
Interestingly, time seems to play a factor in Google's algorithm, as a repeated test of the Facebook search yielded different results just minutes after the first query was completed. While the exact nature of Google's search algorithm is largely a mystery, and the company has been known to modify the code, the "de-ranking" of direct iTunes links has raised a few eyebrows.
The results could very well be a bug in Google's latest
search algorithm, as the popularity of Apple devices and sheer number of users seeking out apps for iOS is likely large.
One method of getting to the iTunes preview of an iOS app is to include the term "iTunes" in the search bar, though this method may not be obvious to consumer unfamiliar with the Apple's App Store ecosystem.